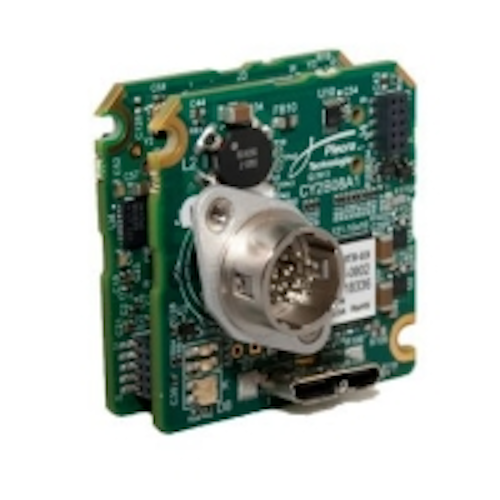 Newnex Technology Corp. and Pleora Technologies have completed successful product interoperability testing for Newnex's USB 3.0 connectivity solutions and Pleora's USB3 Vision-compliant video interface technology platform.
The products from Newnex used for testing include FireNEX-uLINK USB 3.0 active repeater cables, FireNEX-500 USB 3.0 optical repeaters, and the FireNEX-uHUB USB 3.0 industrial hub. Newnex's most recently launched product, the FireNEX-5000S, is capable of transferring USB 3.0 signals up to 300 meters and can be used as a standalone USB 3.0 industrial hub with locking screws. The repeater features two USB 3.0 A ports (upstream unit), one USB A port and one USB B port (downstream unit), all of which are USB3 Vision compliant, and a standard optical port.
Paired with the Newnex USB 3.0 solutions in the testing process was Pleora's iPORT NTx-U3 embedded video interface. The USB3 Vision-compliant iPORT NTx-U3 interface converts video data to packets at throughputs up to 3 Gb/s, and packetized video is then sent with low latency over a USB 3.0 link to receiving software. The interface also features line scan and area scan modes and a 128 MB frame buffer to accommodate larger image sensors.
Testing was conducted over a 24-hour period under various configuration set-ups supporting a transfer rate of 325 fps and image resolution of 640 x 480 pixels. During the testing, no errors were observed.
View more information on Newnex USB 3.0 products.
View more information on Pleora's iPORT NTx-U3.
Also check out:
An update on USB3 Vision
USB 3.0 challenges mainstream camera interface standards
(Slideshow) Five unique examples of industrial machine vision inspection
Share your vision-related news by contacting James Carroll, Senior Web Editor, Vision Systems Design
To receive news like this in your inbox, click here.
Join our LinkedIn group | Like us on Facebook | Follow us on Twitter | Check us out on Google +