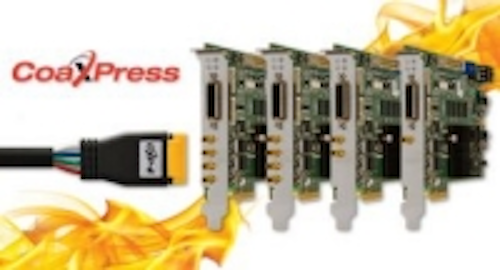 Euresys has launched the Coaxlink line of CoaXPress frame grabber cards, which target applications requiring high data rates and frame rates, real-time timing, longer cable length, and cable reliability. The frame grabbers are available in four models: the Coaxlink Quad G3 (Up to four cameras, 25 Gbps, four CXP-6 connections, PCI 3.0), the Coaxlink Duo (Up to two cameras, 12.5 Gbps, two CXP-6 connections, PCIe 2.0), the Coaxlink Quad (Up to four cameras, four CXP-6 connections, PCI 2.0), and the Coaxlink Mono (One camera, 6.25 Gbps, one CXP-6 connection, PCI 2.0).The CoaXPress frame grabbers from Euresys are suitable for use in automated inspection applications, including printing, flat panel display, glass, as well as solder paste inspection.
To Learn More:

Contact:Euresys
Headquarters: Angleur, Belgium
Product: Coaxlink frame grabbers
Key Features: 20 digital I/O lines, pixel formatting, image reconstruction, GenICam and MultiCam drivers, CoaXPress connection.
What Euresys says:
View more information on the Coaxlink frame grabbers.

View More Products| Locate a vendor or system integrator | Receive e-mail updates
Share new products that you think are particularly interesting or helpful by contacting James Carroll, Senior Web Editor, Vision Systems Design.
Join our LinkedIn group | Like us on Facebook | Follow us on Twitter | Connect on Google +