Euresys to showcase new CoaXPress frame grabbers at VisionChina 2014
Euresys is set to demonstrate its new Coaxlink series of CoaXPress frame grabbers at the Machine Vision Exhibition and Machine Vision Technology and Application Conference at VisionChina 2014

Feb 26th, 2014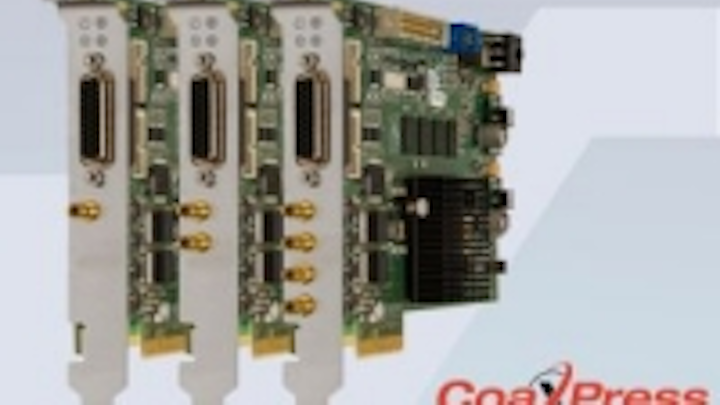 Euresys is set to demonstrate its new Coaxlink series of CoaXPress frame grabbers at the Machine Vision Exhibition and Machine Vision Technology and Application Conference at VisionChina 2014. The frame grabbers are available in four models: the Coaxlink Quad G3 (Up to four cameras, 25 Gbps, four CXP-6 connections, PCI 3.0), the Coaxlink Duo (Up to two cameras, 12.5 Gbps, two CXP-6 connections, PCIe 2.0), the Coaxlink Quad (Up to four cameras, four CXP-6 connections, PCI 2.0), and the Coaxlink Mono (One camera, 6.25 Gbps, one CXP-6 connection, PCI 2.0).These frame grabbers are suitable for use in automated inspection applications; including 3D solder paste inspection, printing inspection, flat panel display inspection, and glass inspection. Euresys will have the Coaxlink frame grabbers on display on March 18 at 1:40 p.m. in Expo Centre Hall E1.
VisionChina location: Hall E1

To Learn More:

Contact:Euresys
Headquarters: Angleur, Belgium
Product: Coaxlink frame grabbers
Key Features: 20 digital I/O lines, pixel formatting, image reconstruction, GenICam and MultiCam drivers, CoaXPress connection, four models of varying size.
What Euresys:
View more information on Coaxlink frame grabbers.

View More Products| Locate a vendor or system integrator | Receive e-mail updates
Share new products that you think are particularly interesting or helpful by contacting James Carroll, Senior Web Editor, Vision Systems Design.
Join our LinkedIn group | Like us on Facebook | Follow us on Twitter | Connect on Google +