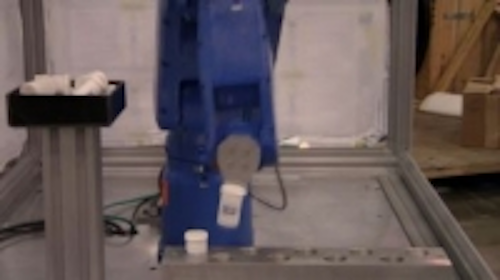 A partnership between software engineering company Universal Robotics and custom automation solutions provider The Doefer Companies has resulted in the development of an automated flexible medical device assembly system.
In the system, an automated solution from Doefer is paired with Universal Robotics' Neocortex artificial intelligence software, which uses sensor information to learn and is based on technology originally co-developed between NASA and Vanderbilt University.. It discovers patterns in environments relevant to an assigned task and analyzes those patterns to understand them and improve the process, according to Universal Robotics.
In addition, because Neocortex requires observation and interaction with the physical world to learn, Universal Robotics created a 3D vision guidance product called Spatial Vision Robotics, which provides Neocortex with information about its surroundings. Spatial Vision Robotics, which is also sold through Yaskawa Motoman Robotics as Motosight 3D Spatial Vision, features two USB 2.0 ports and two GigE ports. It also features a matched pair of USB 2.0 webcams or cameras, with the system being optimized for 960 x 720 pixel Logitech 9000 webcams with a frame rate of 15 fps.
A pair of GigE cameras is also used, with the system being optimized for Allied Vision Technology Manta or Prosilica GigE cameras. Manta GigE Vision cameras are available in 656 x 492 or 780 x 580 pixel models and feature Sony ICX CCD image sensors and feature a maximum frame rate range of 67 fps to 125 fps, depending on the model. Prosilica GigE Vision cameras are available in 640 x 480, 1,024 x 1,024, and 1,600 x 1,200 pixel models and feature Truesense KAI CCD image sensors. These cameras feature a maximum frame rate range of 32 fps to 205 fps, depending on the model.
With this collaboration, automated assembly platforms are able to receive raw materials without the need for traditional feeding hardware such as vibratory, centrifugal, or tray feeders. A demonstration of the partnership will be offered at MD&M West 2014, held February 11-13 in Anaheim, Calif. It will utilize a Motoman MH5SM six-axis robotic arm to show the ability to locate medical device piece parts completely at random, pick those parts and subsequently place to a tooled nest on an assembly platform.
View the press release.
Also check out:
Google and the robot revolution
(Slideshow) 10 innovative current and future robotic applications
Robotics Industries Association to host first collaborative robots workshop at The Vision ShowShare your vision-related news by contactingJames Carroll,Senior Web Editor, Vision Systems Design
To receive news like this in your inbox, click here.
Join our LinkedIn group | Like us on Facebook | Follow us on Twitter | Check us out on Google +