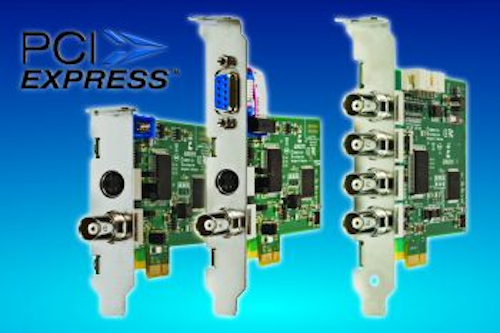 New Picolo PCI Express x1 image acquisition cards are fully interchangeable with their PCI equivalents. Equipped with four TTL I/O lines and four video connectors, Picolo PCIe acquires one or two composite video or one S-Video signals. The entry-level capture card enables cost-sensitive single-camera machine vision, access control, security, and medical imaging applications. Picolo Pro 2 PCIe targets simple video surveillance applications. Using quick-switching up to four composite video signals are acquired through standard BNC connectors. TTL I/O lines are provided for simpler integration.
Euresys
Angleur, Belgium
-- Posted by Vision Systems Design

View More Vision+Automation Products

Locate a vendor or system integrator in our Online Buyer's Guide

---
NEW PRODUCT PRESS RELEASE
Entry-level, low-cost PCI Express image acquisition cards
Euresys s.a., Angleur (Liège), Belgium – Euresys renews the first products of the Picolo series, launching new PCI Express x1 versions of the popular PAL/NTSC image acquisition cards. The two new PCI Express cards are fully interchangeable with their PCI equivalents.

The first of them, the Picolo PCIe acquires one or two composite or one S-Video video signals. The Picolo PCIe is equipped with four TTL I/O lines and four video connectors: a BNC, an S-Video connector, a DB9 and an internal 10-pin header. Its small PCB size is compliant with the low-profile format and the card is delivered with a low-profile and a standard-profile bracket. This entry-level capture card is ideal for cost-sensitive single-camera applications in the fields of machine vision, access control, video security and medical imaging.
The Picolo Pro 2 PCIe video capture cards targets simple video surveillance applications. It captures using quick-switching up to 4 composite video signals through standard BNC connectors. TTL I/O lines are provided for easy system integration.
Contact information: sales@euresys.com
Euresys Company Profile
Euresys is a major player in the field of video surveillance and machine vision, developing and marketing high-performance products and services for image acquisition and vision-oriented analysis.
Euresys provides innovative and high-performance image acquisition sub-systems with patented technologies.
Euresys develops and markets innovative IP video encoders (SD and HDcctv) for the video surveillance market. For high-end video surveillance applications, Euresys also proposes the Picolo video capture cards and the Picolo H.264 series, a wide range of capture and H.264 compression cards for DVR and NVR, monitoring, traffic surveillance applications. The Picolo H.264 series includes a ruggedized PCI-104 capture and compression card designed for mobile surveillance applications such as train, bus, police vehicle and outdoor event surveillance.
For industrial machine vision applications, Euresys offers Open eVision, the image processing and analysis software tool covering applications such as image filtering and enhancement, blob analysis, pattern matching, alignment and metrology and much more. Euresys also offers a wide series of frame grabbers for analog and digital Camera Link image acquisition. These boards include the features required for convenient and precise industrial acquisition: asynchronous reset support, exposure control, synchronization, I/O lines (trigger & strobe).
Established in 1989, Euresys is built on a solid bed of experience in video surveillance and machine vision, offering dedicated and efficient solutions for OEMs.
SOURCE: Euresys