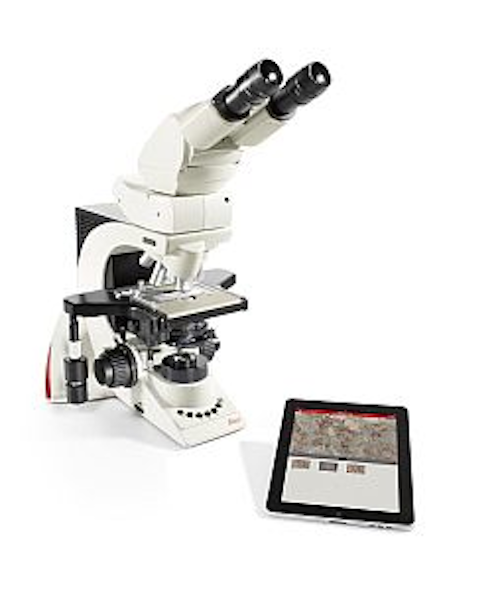 The DMshare app allows wireless recording and sharing of microscope images via iPad. The system comprises the ICC50 HD camera, a data transfer hub, and software. The app is suitable for all iPad generations and allows microscopy images to be transferred in real time. The app has a multilingual user interface.
Leica Microsystems
Wetzlar, Germany
-- Posted by Vision Systems Design

View More Vision+Automation Products

Locate a vendor or system integrator in our Online Buyer's Guide

---
NEW PRODUCT PRESS RELEASE
Microscope Images Go Mobile With New Leica DMshare App From Leica Microsystems
Wireless recording and sharing of microscope images with an iPad
Wetzlar, Germany. Leica Microsystems presents the new iPad* app Leica DMshare for wireless recording and sharing of microscope images. Users can now download Leica DMshare free of charge in the Apple App Store.
The system comprises the Leica ICC50 HD camera, a data transfer hub and the necessary software for the iPad. The app is suitable for all iPad generations and for laboratories with and without a WiFi network, offering users in all areas of microscopy a new standard of convenience and flexibility for their everyday work.**
With Leica DMshare, microscope images can be transferred onto the iPad in real time. This means they are available any time and anywhere – even on the move and independently of the microscope.
The multilingual user interface is intuitive and easily operated with a touchpad. The user can record and store images with two fingers while looking through the microscope eyepiece. The app is a great time saver, particularly for routine applications.
The system can be used with several iPad at a time that are connected to a camera. Users can also e-mail microscope images directly from their iPad. Leica DMshare is therefore ideal for teaching and discussions, offering small groups the possibility to share live images in real time and use them for presentations.
* iPad is a trademark of Apple Inc.
** Leica DMshare is not suitable for diagnostic techniques such as in-vitro diagnostics, or for clinical applications. The app is exclusively designed for use in research and education, e.g. in universities or the pharmaceutical industry.
Leica Microsystems is a world leader in microscopes and scientific instruments. Founded as a family business in the nineteenth century, the company's history was marked by unparalleled innovation on its way to becoming a global enterprise.
Its historically close cooperation with the scientific community is the key to Leica Microsystems' tradition of innovation, which draws on users' ideas and creates solutions tailored to their requirements. At the global level, Leica Microsystems is organized in four divisions, all of which are among the leaders in their respective fields: the Life Science Division, Industry Division, Biosystems Division and Medical Division.
Leica Microsystems' Biosystems Division, also known as Leica Biosystems, offers histopathology laboratories the most extensive product range with appropriate products for each work step in histology and for a high level of productivity in the working processes of the entire laboratory.
The company is represented in over 100 countries with 12 manufacturing facilities in 7 countries, sales and service organizations in 19 countries and an international network of dealers. The company is headquartered in Wetzlar, Germany.
SOURCE: Leica Microsystems