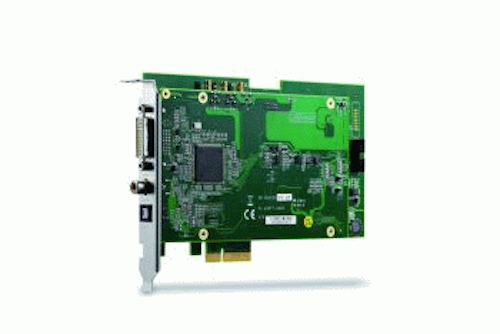 The HDV62A full HD HDMI video and audio capture card captures uncompressed video at up to 1080p at 60 frames/sec, features a 10-bit high-resolution ADC and HDCP (High-Bandwidth Digital Content Protection) support, achieving simultaneous capture from both video and audio signals in processes such as multimedia device testing and medical imaging. The board also provides an analog video decoder supporting RGB, NTSC/PAL, S-video, and YPbPr, with an integrated audio decoder for HDMI and S/PDIF capture. The ViewCreator Pro utility enables system testing and debugging with no software programming required.
ADLINK Technology
San Jose, CA, USA
-- Posted by Vision Systems Design

View More Vision+Automation Products

Locate a vendor or system integrator in our Online Buyer's Guide

---
NEW PRODUCT PRESS RELEASE
ADLINK Launches New HDMI Video and Audio Capture Card

Enabling single-card acquisition of full analog/digital uncompressed video and digital audio signals; ideal for multimedia device testing and medical imaging

SAN JOSE, CA - ADLINK Technology, Inc., a leading provider of machine vision platforms and boards, announces the release of its new full HD HDMI video and audio capture card, the HDV62A, enabling one-card acquisition of full analog/digital video and digital audio input. Featuring uncompressed full HD up to 1080p at 60 fps,10-bit high-resolution ADC, and HDCP (High-Bandwidth Digital Content Protection) support, the HDV62A delivers serious benefits and reduced TCO (total cost of ownership) for applications requiring simultaneous capture from both video and audio signals, such as multimedia device testing and medical imaging.

The HDV62A not only delivers uncompressed high-definition video data from DVI or HDMI, but also provides an analog video decoder comprehensively supporting RGB, NTSC/PAL, S-video, and YPbPr, with an integrated audio decoder for HDMI and S/PDIF capture. In addition, the HDV62A is compatible with HDCP, securing critical user data during transmission.

"For multimedia devices such as set-top boxes, Blu-ray Disc players, and gaming consoles that demand consistent quality in manufacturing, the HDV62A provides a single card capture solution, allowing acquisition from raw images and audio sources for analysis and measurement, significantly reducing costs of product line inspection," said Neil Chen, ADLINK's product manager for Digital Imaging. "For medical imaging systems, the HDV62A provides video acquisition from a wide variety of video sources, including S-Video, CVBS, YPbPr, RGB, and DVI, all of which are widely used in PACS (picture archiving and communication systems), delivering a superior cost/performance solution."
The HDV62A is also equipped with ADLINK's ViewCreator Pro® utility, enabling system testing and debugging with no software programming required, and the HDV62A SDK is compatible with Microsoft DirectShow for reduced time to market. Driver support is provided for Windows 7/Vista/XP, and 3rd party software support accommodates LabVIEW.
For more information on HDV62A, please visit www.adlinktech.com.
About ADLINK
ADLINK Technology provides a wide range of embedded computing products and services to the test & measurement, automation & process control, gaming, communications, medical, network security, and transportation industries. ADLINK products include PCI Express-based data acquisition and I/O; vision and motion control; and AdvancedTCA, CompactPCI, and Computer-on-Modules (COMs) for industrial computing. With the acquisition of Ampro Computers, Inc., ADLINK also provides a wide range of Extreme Rugged and Rugged Single Board Computers, Computer-on-Modules and Systems under the brand name Ampro by ADLINK. ADLINK strives to minimize the total cost of ownership (TCO) of its customers by providing customization and system integration services, maintaining low manufacturing costs, and extending the lifecycle of its products. ADLINK is a global company with headquarters and manufacturing in Taiwan; R&D and integration in Taiwan, China, and the US; and an extensive network of worldwide sales and support offices.
ADLINK is ISO-9001, ISO-14001, and TL9000 certified, is an Associate Member of the Intel Intelligent Systems Alliance, an Executive Member of PICMG, and a Sponsor Member of the PXI Systems Alliance. ADLINK is a publicly traded company listed on the TAIEX Taiwan Stock Exchange (stock code: 6166).
SOURCE: ADLINK Technology