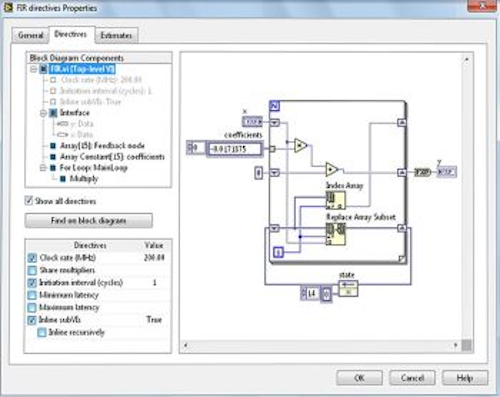 The LabVIEW FPGA IP Builder add-on employs Xilinx Vivado High-Level Synthesis (HLS) technology to simplify high-performance field-programmable gate array (FPGA) algorithm design. The software add-on is deisgned to reduce the need for manual optimization of high-performance algorithms. Users specify functional behavior along with design constraints and the software automatically generates a hardware implementation to meet requirements. The function integrates with LabVIEW and the LabVIEW DSP Design Module.
National Instruments
Austin, TX, USA
-- Posted by Vision Systems Design www.vision-systems.com
View More Vision+Automation Products

Locate a vendor or system integrator in our Online Buyer's Guide

---
NEW PRODUCT PRESS RELEASE
NI LabVIEW Incorporates High-Level Synthesis Technology to Improve FPGA Design Productivity
News Highlights
- The new LabVIEW FPGA IP Builder software incorporates high-level synthesis (HLS) technology to accelerate system design through increased abstraction.
AUSTIN, Texas -- National Instruments (Nasdaq: NATI) has announced the LabVIEW FPGA IP Builder add-on, which uses leading Xilinx Vivado(TM) High-Level Synthesis technology to simplify high-performance field-programmable gate array (FPGA) algorithm design. This new LabVIEW add-on enhances productivity by reducing the need for manual optimization of high-performance algorithms. Instead, users specify functional behavior along with design constraints and the software automatically generates a hardware implementation to meet requirements.
The new add-on tightly integrates with LabVIEW and the LabVIEW DSP Design Module, a LabVIEW module that helps researchers and system designers in the RF and telecommunications space quickly create communication links and multirate digital signal processing (DSP) algorithms on FPGAs.
Quote
"Our vision for the LabVIEW platform is to empower domain experts to represent their algorithms using natural programming paradigms and provide a seamless path for deploying to high-performance hardware," said David Fuller, vice president of applications and embedded software for NI. "High-level synthesis technology is central to this vision - it empowers system designers to spend less time optimizing their FPGA algorithms and more time innovating."
Product Features
-- Increased FPGA design abstraction for enhanced productivity
-- Improved algorithm performance and resource utilization
-- Separation of code and design constraints facilitates IP reuse
-- Seamless deployment to NI FPGA-based devices and integration with I/O
About National Instruments
Since 1976, National Instruments (www.ni.com) has equipped engineers and scientists with tools that accelerate productivity, innovation and discovery. NI's graphical system design approach to engineering provides an integrated software and hardware platform that speeds the development of any system needing measurement and control. The company's long-term vision and focus on improving society through its technology supports the success of its customers, employees, suppliers and shareholders.
Pricing and Contact Information
LabVIEW FPGA IP Builder
Priced* from $4,999; EUR5,199; YEN675,000
Email: info@ni.com
*All prices are subject to change without notice.
LabVIEW, National Instruments, NI and ni.com are trademarks of National Instruments. Other product and company names listed are trademarks or trade names of their respective companies.
SOURCE: National Instruments