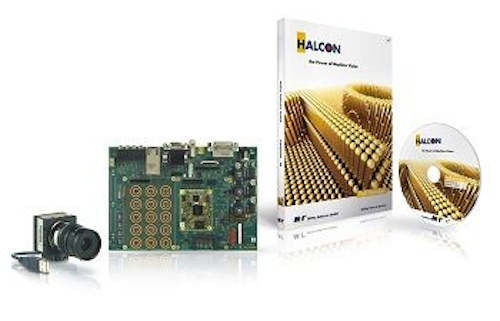 HALCON Embedded has been released for TI OMAP4 processors, used in mobile devices, without additional porting effort. The OMAP4 processor is equipped with two cores; HALCON's automatic operator parallelization (AOP) automatically distributes the image-processing task to multiple threads, one for each core. AOP generates increased speed without the necessity of writing any code. This allows embedded system developers to create advanced vision solutions in a handheld format. Evaluation boards for OMAP4 are provided by Phytec or can be purchased as PandaBoard. HALCON Embedded for OMAP4 is only available for use on Linux operating systems.
MVTec Software
Munich, Germany
-- Posted byVision Systems Design
View More Vision+Automation Products
Locate a vendor or system integrator in our Online Buyer's Guide
---
NEW PRODUCT PRESS RELEASE
HALCON Embedded on OMAP4
========================
MVTec Software GmbH, Munich (Germany) has expanded its series of HALCON Embedded versions with the release of HALCON Embedded for OMAP4 processors. With this release, the entire HALCON functionality is available for OMAP4 processors without additional porting effort.
The OMAP4 processor by Texas Instruments was especially designed for mobile devices like tablets or smart phones. Its performance is comparable to the Intel Atom processor, but the OMAP4 consumes less power.
The OMAP4 processor is equipped with two cores. This is notably interesting for HALCON users because HALCON's automatic operator parallelization (AOP) automatically distributes the image processing task to multiple threads, one for each core. AOP generates a distinct speed-up without the necessity of writing any code.
The availability of low-cost, high performance embedded processors like the OMAP4 is enabling increasingly powerful software applications to run on mobile devices. With the release of HALCON Embedded for OMAP4, embedded system developers can now take advantage of HALCON's unique flexibility and best-in-class performance to create advanced vision solutions that run in the palm of their hand.
Evaluation boards for OMAP4 are provided, e.g., by Phytec or can be purchased as PandaBoard. HALCON Embedded for OMAP4 is only available for use on Linux operating systems. HALCON Embedded for OMAP4 is optimized for Cortex A9. More information regarding the download of HALCON Embedded for OMAP4:
http://www.halcon-embedded.com/halcon-embedded-omap4.html
About HALCON Embedded
HALCON Embedded means HALCON running on a special platform. HALCON is portable to various microprocessors/DSPs, operating systems, and compilers. HALCON Embedded lets software developers exploit the power of the comprehensive machine vision library HALCON by MVTec on embedded systems. HALCON Embedded enables the development of the software part of a machine vision application on a standard platform and thereby greatly eases the programming of an embedded system. Simply stated: Development is done on a PC, while the application runs on an embedded system.
Contact:
Dr. Lutz Kreutzer, Manager PR & Marketing - MVTec Software GmbH, Neherstr.1, D-81675 Muenchen
Tel. +49 89 457695-0 - Fax +49 89 457695-55 - press@mvtec.com
SOURCE:MVTec Software