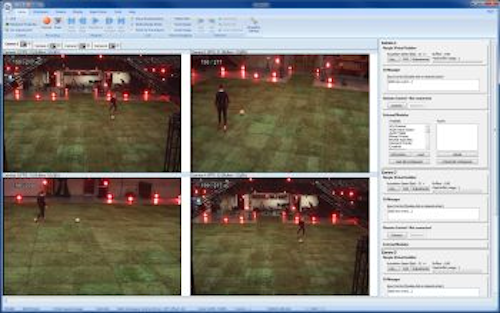 StreamPix5 digital video-recording software is compatible with Vicon Blade motion capture software, which allows a video archive to be analyzed alongside the motion capture data. StreamPix5 supports interfaces such as GigE Vision, USB, IEEE 1394 (FireWire), Camera Link, and others. It now offers support for VITC (as well as LTC) that enables video to be added to master timing tracks for synchronization with Blade's 3-D data.
NorPix
Montreal, QC, Canada
-- Posted by Vision Systems Design

View More Vision+Automation Products

Locate a vendor or system integrator in our Online Buyer's Guide

---
NEW PRODUCT PRESS RELEASE

NorPix brings video recording to Vicon motion capture

Montreal, Canada - NorPix, a developer of high speed digital recording solutions, is pleased to announce its StreamPix5 video recording software is now fully compatible with Vicon Blade motion capture (mocap) software. When synchronized with Blade, StreamPix records video from the scene, creating a video archive that can be analyzed alongside the motion capture data.
Blade includes all the crucial elements needed for motion capture, simplifying everything from system configuration to actor setup and delivering mocap data of the highest accuracy. Aimed at film, game, broadcast and post studios, Blade ensures what you capture is what you deliver. StreamPix5 complements the motion capture data, providing a video reference of the subject.
NorPix StreamPix5 supports a variety of high-performance and industrial cameras and interfaces, such as GigE Vision, IP ONVIF cameras, USB, IEEE 1394 (Firewire), Camera Link, and HD-SDI. It offers complete flexibility for video capture, and can be configured to acquire video at any frame rate and resolution. Now with support for VITC (as well as LTC), video captured with StreamPix5 can be added to master timing tracks, enabling perfect synchronization with Blade's 3D data.
About StreamPix
As Norpix's flagship software product, StreamPix5 video referencing has become the ultimate Digital Video Recording software. With its state-of-the-art user interface, users may view, control and acquire from single or multiple cameras simultaneously. StreamPix 5 provides a complete management console for cameras, simplifying the setup, control and acquisition from any number and type of camera.
About NorPix
NorPix is a developer of high-speed digital video recording software specializing in single or multiple camera acquisition. Our software provides a wide selection of features such as time stamping, synchronization, audio and data acquisition and much more. Our software and systems are used throughout a wide range of applications including special effects, scientific research, life science, geo-mapping and military applications.
About Vicon
Academy Award-winning Vicon is the world's largest supplier of precision motion tracking systems, and match moving software. It serves customers in the CG animation industry, film, visual effects, computer games, and broadcast television, as well as engineering and life science industries.
Vicon global clients include: Life Science leaders University of Pennsylvania, the VA Hospitals, Shriners Hospitals for Children, Titleist Golf, The Andrews Institute; Engineering industry leaders Ford, BMW, Airbus, Lockheed, Pratt-Whitney, NASA, Caterpillar, International Truck, and Toyota; and Entertainment companies Sony Pictures Imageworks, Sony Computer Entertainment, Industrial Light and Magic, Sega, Nintendo, Ubisoft, Vivendi, Electronic Arts, Square Enix and many others.
SOURCE: NorPix