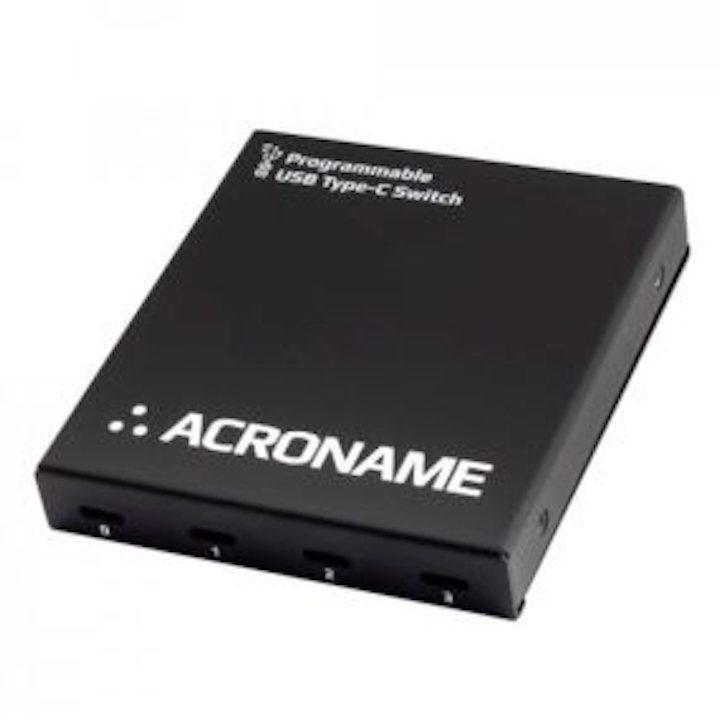 Featuring four USB Type-C ports, the programmable USB-C selector switch from Acronameis optimized for applications in manufacturing and development environments. The USB-C Switch enables users to to programmatically select one of the four USB ports to conduct hot-plug and un-plug operations, enable and disable individual ports, monitor current and voltage and automate connector orientation flip operations, while advanced USB Type-C features—including USB Power Delivery (USB-PD), Alternate Modes such as DisplayPort and HDMI—are supported. Additionally, the switch is bidirectional, allowing it to be used in 1:4 or 4:1 configurations, and APIs in C, C++, Python and LabVIEW control the switch and a cross-platform GUI application is provided.
To Learn More:
Contact: Acroname
Headquarters: Boulder, CO, USA
Product: Programmable USB-C switch
Key Features: Programmable, four USB Type-C ports, bi-directional for use as 1:4 or 4:1 USB Type-C multiplexing, supports USB link speeds up to 10 Gbps (USB 3.1 gen2).

What Acroname says:
View more information on the switch.

View More Products| Locate a vendor or system integrator | Receive e-mail updates
Share new products that you think are particularly interesting or helpful by contacting James Carroll, Senior Web Editor, Vision Systems Design.
Share your vision-related news by contacting James Carroll, Senior Web Editor, Vision Systems Design

To receive news like this in your inbox, click here.
Join our LinkedIn group | Like us on Facebook | Follow us on Twitter