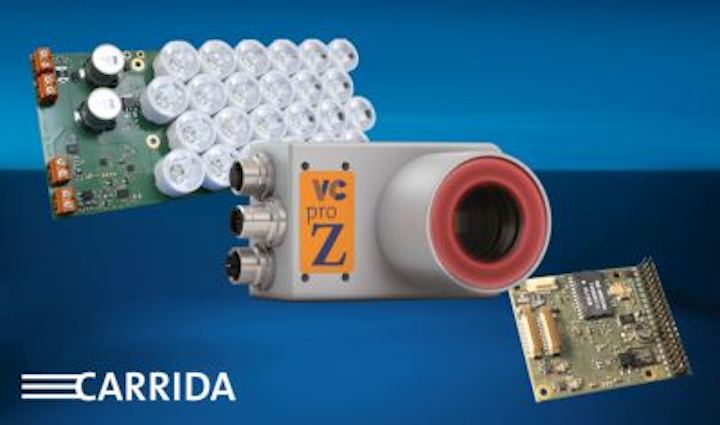 Carrida Parking Management is a new OEM kit that features the Carrida software engine, which is an ALPR/ANPR library (automatic license plate reader or automatic number plate reader), as well as a housed or board-level Carrida Cam smart camera, which is based on the VC pro Z series and features a dual core ARM @866 MHz processing with FPGA and several image sensor options up to 2 MPixels in size. Additionally, an external lighting module with 24 high-power LED infrared lights is optionally available.
The Carrida Parking Management software detects and reads license number plates on vehicles approaching a barrier or gate, then processes the data and decides on a subsequent action (e.g. opening or closing a gate) based on a black/white list. Detailed lists allow access monitoring via number plate logging, vehicle color, vehicle type, and more, according to the company. The software operates in free run mode or trigger mode and offers full data logging (automatic and manual) on internal memory (selectable, min. 16 GB), and transferred via LAN.
To Learn More:
Contact:Vision Components
Headquarters: Ettlingen, Germany
Product: Carrida Parking Management tool
Key Features: Carrida software engine (ALPR/ANPR library), Carrida Cam smart camera (housed or board level camera running ARM/Linux).

What Vision Components says:
View more information the parking management tool.

View More Products| Locate a vendor or system integrator | Receive e-mail updates

Share new products that you think are particularly interesting or helpful by contacting James Carroll, Senior Web Editor, Vision Systems Design.
Share your vision-related news by contacting James Carroll, Senior Web Editor, Vision Systems Design

To receive news like this in your inbox, click here.
Join our LinkedIn group | Like us on Facebook | Follow us on Twitter