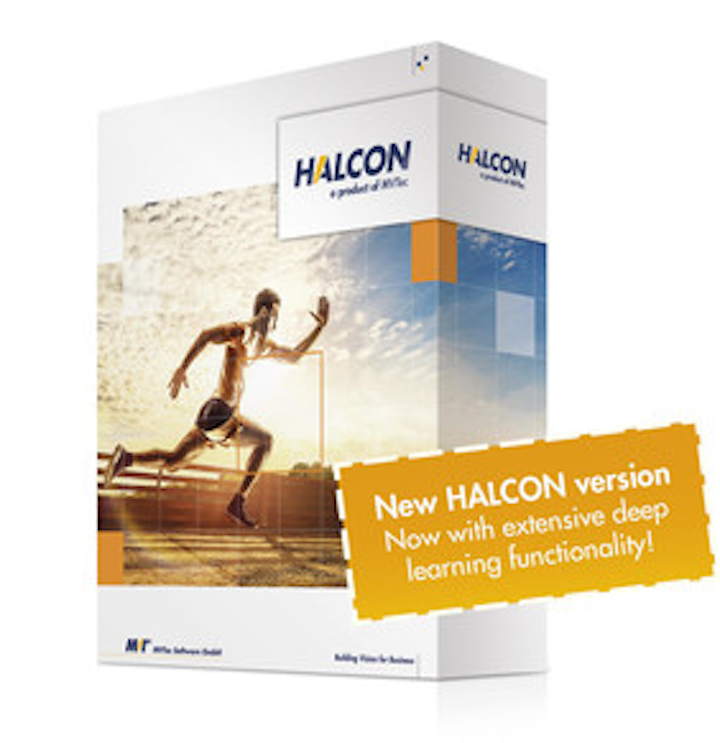 MVTec Software will release version 17.12 of its HALCON software—which the company says features an extensive set of deep learning functions—on December 8.
With a new set of self-learning algorithms, suggests MVTec, users can simplify and accelerate programming processes significantly while being able to benefit from more robust detection rates and better classification results.
The latest HALCON release includes a range of functions for training convolutional neural networks (CNN). This marks the first time that customers can train CNNs with HALCON on the basis of deep learning algorithms, using sample pictures of their specific application. This, according to the company, will drastically reduce programming requirements and save both time and money.
"With HALCON 17.12, we are consistently refining our strategy to provide cutting edge technology to solve industrial challenges. With the introduction of deep learning functionality we make the added value of CNNs accessible to a wide user base. It enables many companies to train neural networks with their own resources at a much lower cost, and to profitably apply them in an industrial setting," explains Johannes Hiltner, Product Manager HALCON at MVTec.
Dr. Olaf Munkelt, Managing Director of MVTec Software GmbH, also commented: "The wide variety of functions in HALCON 17.12 also reflects the growing importance of artificial intelligence and self-learning algorithms in industrial machine vision. With this new version, we are targeting the requirements of the market – especially in the context of Industry 4.0, respectively the Industrial Internet of Things."
In addition to the deep learning functions, HALCON 17.12 offers other new features, improvements, and revised functions, including the ability to detect defects on reflective surfaces of objects, making it easier to integrate HDevEngine into developers' application, and an improved automatic text reader, which has become better at detecting and reading letters and numbers that touch each other.
Further, the new software version offers a new method to fuse the data from different 3D point clouds into one unified model, which simplifies the post-processing of such point clouds through a much more accurate reconstruction of objects, according to MVTec.
View more information on HALCON.
Share your vision-related news by contacting James Carroll, Senior Web Editor, Vision Systems Design

To receive news like this in your inbox, click here.
Join our LinkedIn group | Like us on Facebook | Follow us on Twitter