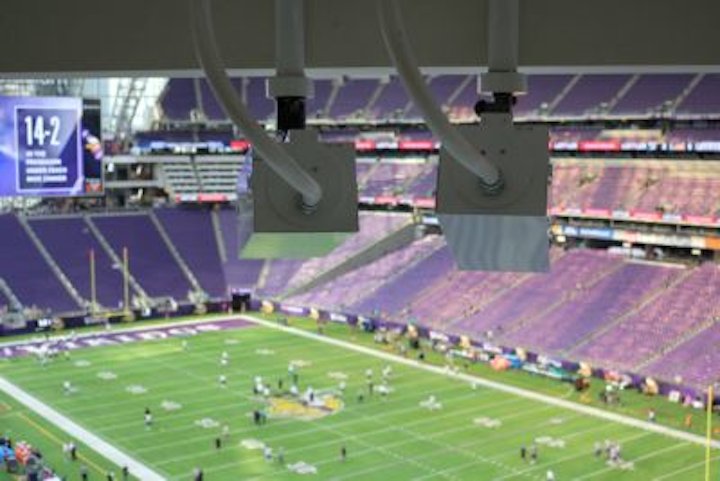 Intel'sfreeD technology, a 360° vision system featuring 38 high-resolution industrial cameras, has now been installed at the home stadiums of 11 NFL teams, including the Arizona Cardinals, Baltimore Ravens, Carolina Panthers, Cleveland Browns, Houston Texas, Indianapolis Colts, Kansas City Chiefs, Minnesota Vikings, New England Patriots, San Francisco 49ers, and the Washington Redskins.
For games at these freeD technology-enabled stadiums, fan can access 360° highlights via NFL.com, the NFL Mobile app, the NFL YouTube channel, and across NFL team digital offerings. The replay system uses the 38 cameras installed around the stadium, along with proprietary algorithms, to enable views of gameplay action from every angle. Each of the cameras in the stadium are connected to Intel-based servers capable of processing up to 1 terabyte of data per 15- to 30-second clip. The volumetric video capture travels over miles of fiber-optic cables and is fed to a special control room where a team of producers select and package the replays, according to Intel.
"By expanding freeD to more teams across the NFL, we're empowering fans to see every side of the play and relive the excitement of game-changing moments," said James Carwana, general manager of Intel Sports. "During Super Bowl LI, fans experienced a pivotal play from the quarterback's point of view. Seeing key plays up close and from new perspectives is redefining what it means to watch the game."
Intel's freeD (free dimensional video) captures true 3D scenes that can be tapped to produce any desired viewing angle. The system utilizes 36 Spark Series SP-20000 industrial cameras from JAI that are mounted around the around the upper level of the stadium to continuously capture the action from every angle. SP-20000 cameras feature the 20 MPixel CMV20000 CMOS image sensor from CMOSIS, which features a 6.4 µm pixel size. The cameras also feature built-in high dynamic range mode, which is designed to handle the high contrast sun and shade conditions common in outdoor stadiums, golf courses, and other sports venues.
Synchronized feeds of high-resolution video are processed using algorithms to create a 3D database of voxels. After the freeD database is created, an interactive real-time rendering engine allows for the viewing of the captured scene from any desired angle (as long as it is within the coverage range of the original sensors).
Vishal Shah, SVP, Digital Media at the NFL, also commented: "We're thrilled to bring this innovative content to NFL fans both in stadium and at home with freeD technology," said Shah. "Partnering with Intel has enabled a new way for fans to experience the excitement of our game. The vision of this technology to place the viewer anywhere on the field has the potential to be impactful across multiple areas of the League."
In early 2016, Intel acquired the company that developed freeD Technology, Replay Technologies. Read an interview with Matteo Shapira, the chief technology officer and co-founder from Replay Technologies, who is now the senior director of innovation and technology, immersive reality/sports, at Intel, by clicking here.
View more information on the Intel system.
Share your vision-related news by contacting James Carroll, Senior Web Editor, Vision Systems Design

To receive news like this in your inbox, click here.
Join our LinkedIn group | Like us on Facebook | Follow us on Twitter