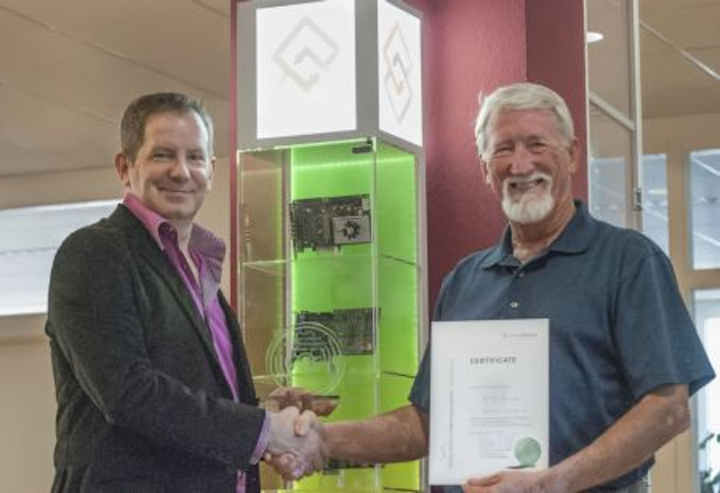 Rex Lee, Ph.D., President of Pyramid Imaging, Inc. was recently awarded the certificate that recognizes the company becoming the VisualApplets Competence Center (VACC) for the U.S., enabling the company to consult with and provide support for imaging professionals using Silicon Software's VisualApplets softwarefor the graphical programming of FPGA vision processors.
Silicon Software develops off-the-shelf products and customer-specific original equipment manufacturer solutions with its hardware and software developments for machine vision and quality inspection in automation. The company focuses on the intelligent image processing boards of the microEnable product series and the VisualApplets software.
Silicon Software is a Gold winner of a 2017 Innovator Award from Vision Systems Design for the VisualApplets Embedder 3.0, which the company touts as VisualApplets unleashed from SiliconSoftware's FPGA-based hardware. Users can now implement FPGA designs in their own FPGA based imaging device or camera using VisualApplets. VisualApplets 3.0 Embedder (aka eVA) uses a simple dialog box configuration process to create an eVA IP core within a device's FPGA.
Pyramid Imaging—a machine vision distributor, value-added reseller, integrator, and original equipment manufacturer—is excited to be sharing this technology with customers in the U.S.
"Silicon Software's technology is very unique and revolutionary. Their technology allows programming Xilinx FPGAs without knowledge of any FPGA hardware description language (HDL)," says Lee. "Thus, nonexperts can have Xilinx FPGAs programmed for real-time image processing in days rather than in months using traditional HDL programming."
Pyramid Imaging was one of 28 companies internationally to earn VACC certification, which is valid for two years.
View more information on Pyramid Imaging.
View more information on Silicon Software.
Share your vision-related news by contacting James Carroll, Senior Web Editor, Vision Systems Design

To receive news like this in your inbox, click here.
Join our LinkedIn group | Like us on Facebook | Follow us on Twitter
Learn more: search the Vision Systems Design Buyer's Guide for companies, new products, press releases, and videos