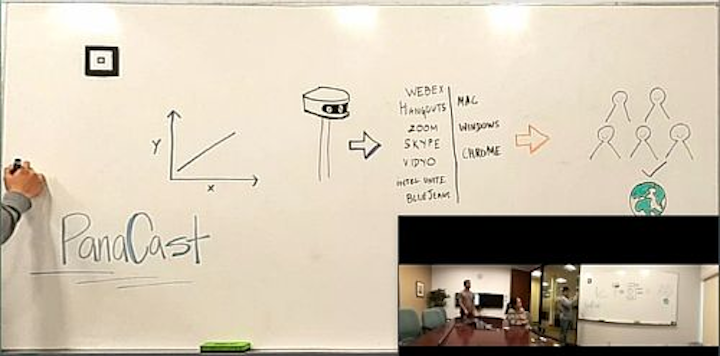 Panoramic imaging company Altia Systems has partnered with Intel to launch PanaCast Whiteboard, a computer vision software that detects content on an existing whiteboard and displays it as an individual screen within a video conference.
Panacast Whiteboard is designed to be a computer vision capability for the PanaCast 2camera systemfrom Altia Systems. Panacast 2 is a panoramic camera system with three separate imagers and an adjustable field of view through a USB video class (UVC) PTZ (pan, tilt, zoom) command set. The camera has USB 2.0 and USB 3.0 interfaces and features a 180° wide by 54° tall field of view, enabling it to see an entire meeting space without the use of electromechanical PTZ cameras.
To capture images from all three imagers and to provide panoramic video, the PanaCast features a patent-pending Dynamic Stitching technology, which does an analysis of the overlapping image. Once the geometric correction algorithm has finished correcting sharp angles, the Dynamic Stitching algorithm creates an energy cost function of the entire overlap region and comes up with stitching paths of least energy, which typically lie in the background, according to Altia Systems.
The computation is done in real time on a frame-by-frame basis to create the panoramic video. Each video frame is 1600 x 1200 pixels from each imager, and joining these frames from three imagers together creates a 4800 x 1200 image. Each imager in the PanaCast 2 camera are 3 MPixel CMOS image sensors that can reach up to 30 fps in YUV422 and MJPEG video format.
PanaCast Whiteboard is the result of computer vision algorithms initially developed by Intel and Altia Systems. The software alleviates reflections, shadows and glare to produce a crisp image, and is compatible with a number of video conferencing platforms, including Google Hangouts, Cisco WebEx, and Microsoft Skype and Zoom, per Altia Systems.
"Intel and Altia Systems have collaborated to deliver innovative computer vision algorithms that run on the Intel Core i-series processor family to detect whiteboards, rectify and enhance images to produce high-quality, orthogonal whiteboard views," said Praveen Vishakantaiah, VP and GM of Intel Client Computing Group R&D division.
Altia Systems President and CEO Aurangzeb Khan also commented: "The standard whiteboard is the simplest collaboration tool available for meetings and classroom settings," he said. "However, the rise of remote workers and education programs creates an urgent need for technology to keep the video collaboration process running smoothly. With PanaCast Whiteboard, people can brainstorm, host planning sessions, teach online courses and more from anywhere in the world, all while engaging your team and keeping the communication simple and natural."
"My clients are sometimes more interested in my whiteboard sketches than seeing my face," said Dean Heckler, President of PanaCast Whiteboard beta user Heckler Design. "When using PanaCast Vision, our whiteboard becomes an active meeting participant, creating another powerful communication tool for Heckler Design."
View more information onPanaCast Whiteboard.
Share your vision-related news by contactingJames Carroll, Senior Web Editor, Vision Systems Design

To receive news like this in your inbox, click here.
Join ourLinkedIn group | Like us on Facebook | Follow us on Twitter
Learn more: search the Vision Systems Design Buyer's Guide for companies, new products, press releases, and videos