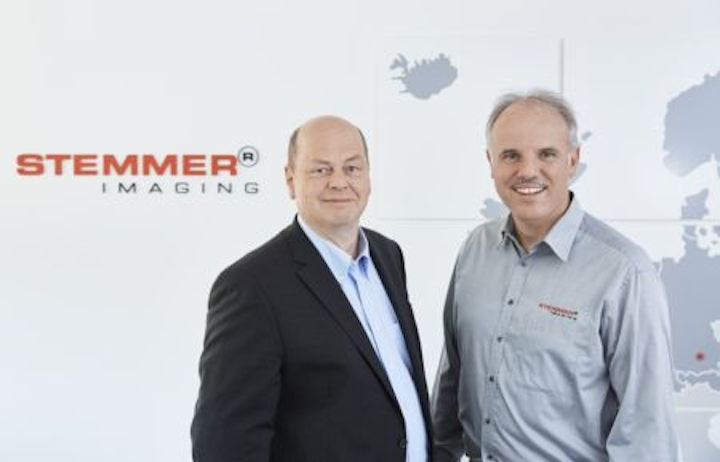 This year,STEMMER IMAGINGhas achieved the milestone of being a machine vision and imagingsolution provider for 30 years, while also celebrating the 20th anniversary of the release of its Common Vision Blox (CVB)machine vision software.
Founded by Wilhelm Stemmer on July 1, 1987, STEMMER IMAGING began as a company focused on the field of imaging. Since then, the Puchheim, Germany-based company has become an imaging technology provider with more than 260 highly-skilled experts in 19 European countries and a turnover of 88.7 million Euros this past fiscal year.
"Our mission is to provide users and developers of imaging applications with a competitive advantage by enabling easy access to quality machine vision technology, expertise and support, delivered with passion," said Christof Zollitsch, one of the two managing directors of STEMMER IMAGING.
Common Vision Blox, which was introduced in 1997, is a platform-independent programming library that provides machine vision developers with extensive possibilities for the fast and reliable implementation of demanding imaging solutions, according to STEMMER. The software library was created by the former head of development and today's managing director, Martin Kersting, 20 years ago. It also includes basic functionality for image acquisition, image access, image display, coordinate transformation, image normalization and more.
"The main objective of CVB's development was to provide our customers with a flexible, modular software platform that enables them to create a powerful machine vision system using a wide variety of hardware components," recalled Kersting. "Today, Common Vision Blox is successfully used in thousands of imaging applications in a wide variety of industries throughout the world."
Pictured: Managing directors of STEMMER IMAGING Martin Kersting and Christof Zollitsch.
View more information on CVB.
Share your vision-related news by contacting James Carroll, Senior Web Editor, Vision Systems Design

To receive news like this in your inbox, click here.
Join our LinkedIn group | Like us on Facebook | Follow us on Twitter