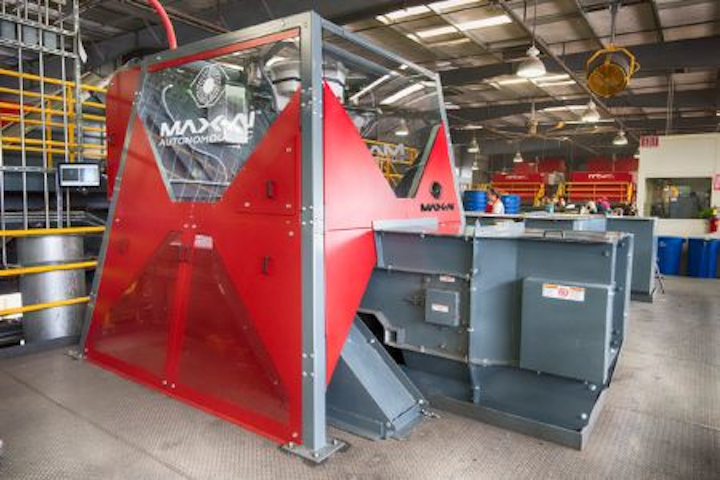 Developed by Oregon-based Bulk Handling Systems (BHS), Max-AI is an artificial intelligence system that usesvision and deep learningtechnologies to identify recyclables and other items for recovery.
The first available machine utilizing Max-AI technology is an autonomous quality control unit that sorts container streams following optical sorting, according to BHS. The system features robotic arms guided by visible light cameras to identify material. Max can identify images and utilize multi-layered neural networks to identify the objects and make sorting decisions autonomously. Rather than being explicitly programmed or relying on deterministic decision making, Max uses self-learned behavior to make a decision based on the neural network's inference. For example, Max is able to separate various materials such as thermoform trays, aluminum, and fiber while removing residue from a stream of PET bottles.
Max utilizes the latest artificial intelligence algorithms and GPU-accelerated parallel computing and is trained with millions of images with different materials already identified. When in use, Max identifies the best path to take through its artificial "brain" to reach the correct answer. Through millions of iterations, according to BHS, Max learns how to identify new images, correctly classifying objects never seen before.
"This technology was simply not possible until now," states Thomas Brooks, BHS Director of Technology Development. "Recent advances in computer processing capabilities have enabled us to develop this groundbreaking machine learning platform. Max is more than just a robotic sorter. Max-AI technology will soon become the active brain of our MRFs [material recovery facility] controlling various robotic, optical, and other sorting equipment, providing real-time material composition analysis, and making autonomous decisions."
View more information on Max-AI.
Share your vision-related news by contacting James Carroll, Senior Web Editor, Vision Systems Design

To receive news like this in your inbox, click here.
Join our LinkedIn group | Like us on Facebook | Follow us on Twitter
Learn more: search the Vision Systems Design Buyer's Guide for companies, new products, press releases, and videos