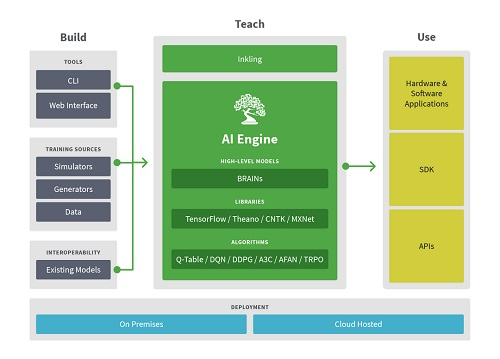 Microsoft Ventures, Microsoft's corporate venture fund, has announced investments in two new artificial intelligence companies: Agolo, a company that develops AI-based summarization software, and Bonsai, a company that specializes in automating the management of complex machine learning algorithms.
Based in New York, Agolo is a startup that aims to help companies "fight information overload through AI-powered summarizations. The company closed a $3.5 million seed round of funding co-led by Microsoft ventures and CRV, along with participation from Point72 Ventures and Franklin Templeton, according to VentureBeat. The AI platform from Agolo—the only company in the Microsoft Ventures program that went through the Microsoft Accelerator Program—is able to analyze thousands of documents and produce a summary of key points, specific to user interests, in real time.
Bonsai, which is based in Berkeley, CA, USA, "empowers enterprises to build intelligent systems" by automating the management of complex machine learning algorithms. Bonsai raised $7.6 millionas an extension to its recent A round funding, bringing its total amount raised to $13.6 million. Microsoft Ventures and existing investor NEA co-led the investment, with participation from ABB Technology Ventures, Samsung NEXT, and Siemens.
Bonsai's product (pictured), according to the company, centralizes the programming, runtime, and management of AI models into a single platform. These AI models can then be used to increase automation and efficiency in industrial systems, including those in robotics, warehousing operations, smart factories, as well as in supply chain and logistics operations.
Microsoft Ventures also has the following two companies in its AI fund: Element AI, a Montreal-based company focused on developing AI-first solutions for large companies; and Mountain View, California-based Livongo, a consumer digital health company that combines the latest apps and analytics with coaching and personalized support to make diabetes management easier.
"It's still early days for our AI fund, but with a plethora of amazing startups out there, I'm confident in our ability to find and support more startups that are responsibly harnessing the power and promise of AI," said Nagraj Kashyap, Corporate Vice President of Microsoft Ventures. "It's exciting for me that Microsoft Ventures can add to Microsoft's long history in AI. In fact, Microsoft Research has been involved since the '90s! By investing in startups like Agolo and Bonsai, Microsoft Ventures is supporting Microsoft's commitment to democratizing AI and empowering people and businesses for years to come."
View the Microsoft Ventures press release.
View more information on Agolo.
View more information on Bonsai.
Share your vision-related news by contacting James Carroll, Senior Web Editor, Vision Systems Design

To receive news like this in your inbox, click here.
Join our LinkedIn group | Like us on Facebook | Follow us on Twitter
Learn more: search the Vision Systems Design Buyer's Guide for companies, new products, press releases, and videos