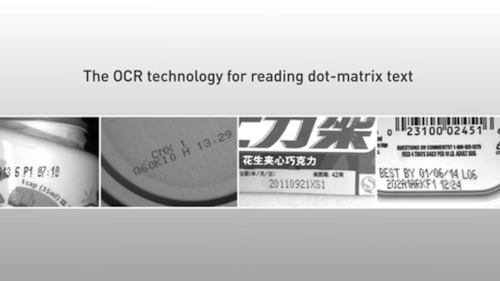 Matrox SureDotOCR™ lets packaging line equipment builders design inspection systems that reliably read information applied by industrial inkjet printers despite text distortion and orientation as well as uneven backgrounds and illumination.
Matrox SureDotOCR, which is available in the Matrox Imaging Library (MIL) and Matrox Design Assistant imaging software, is a new technology for reading challenging dot-matrix text printed by industrial inkjet printers.
This new flowchart step handles distorted and rotated text, on uneven backgrounds and under non-uniform illumination. SureDotOCR only requires the specification of dot size, the number of characters in a potential text string, and the dimensions, but not the location, of the text region. It also features a set of pre-defined fonts and accepts custom fonts for more precise matching. Furthermore, the tool can read multiple lines of text and can even read each line of text in different fonts.
Learn more about SureDotOCR here.
Share your vision-related news by contacting James Carroll, Senior Web Editor, Vision Systems Design

To receive news like this in your inbox, click here.
Join our LinkedIn group | Like us on Facebook | Follow us on Twitter
Learn more: search the Vision Systems Design Buyer's Guide for companies, new products, press releases, and videos