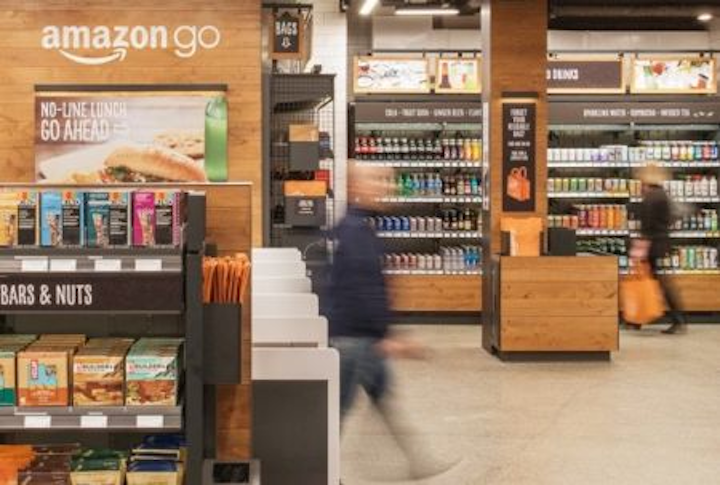 Based on computer vision technologies and deep learningalgorithmsthat enable shoppers to purchase goods without the need for lines or checkout, the Amazon Go convenience store is now open to the public.
Located in Seattle, WA, USA at the company's headquarters, Amazon Go was previously only open to Amazon employees. The shopping experience, according to Amazon, is made possible by the same types of technologies used in self-driving cars. That is, computer vision, sensor fusion, and deep learning technologies. With "Just Walk Out" technology, users can enter the store with the Amazon Go app, shop for products, and walk out of the store without lines or checkout. The technology automatically detects when products are taken or returned to shelves and keeps track of them in a virtual cart. When the shopping is finished, users leave the store and their Amazon account is charged shortly thereafter.
As noted in our coverage of the announcement, the Amazon patent filings show that the cameras used in Amazon Go may include RGB cameras, depth sensing cameras, and infrared sensors. Within the patent filings, however, are some additional details that suggest simply using the app to enter may not be quite as simple as it sounds. It is noted that upon detecting a user entering and/or passing through a transition area, the user is identified, and that various techniques may be used to identify the user. This includes a camera that captures an image that is processed using facial recognition, and that "in some implementations, one or more input devices may collect data that is used to identify when the user enters the materials handling facility."
Reports last year suggested that there were some issues in the Amazon Go store when it became crowded within the store:

"Amazon has run into problems tracking more than about 20 people in the store at one time, as well as the difficulty of keeping tabs on an item if it has been moved from its specific spot on the shelf, according to the people," it was noted in The Wall Street Journal.
These issues must have been worked out, as the store is now open 7 AM to 9 PM, Monday through Friday, at the Amazon headquarters. Items that shoppers can purchase, sans-line, include breakfast, lunch, dinner, and snack options, as well as staple grocery items like bread, milk, cheese, and so on. In order to use Amazon Go, users must have an Amazon account, the free Amazon Go app, and a recent-generation iPhone or Android phone. You can find the Amazon Go app on the Apple App Store, Google Play, and Amazon Appstore.
"When you arrive, use the app to enter the store, then feel free to put your phone away—you don't need it to shop. Then just browse and shop like you would at any other store. Once you're done shopping, you're on your way! No lines, no checkout," according to Amazon.
View more information on Amazon Go.
Share your vision-related news by contacting James Carroll, Senior Web Editor, Vision Systems Design

To receive news like this in your inbox, click here.
Join our LinkedIn group | Like us on Facebook | Follow us on Twitter