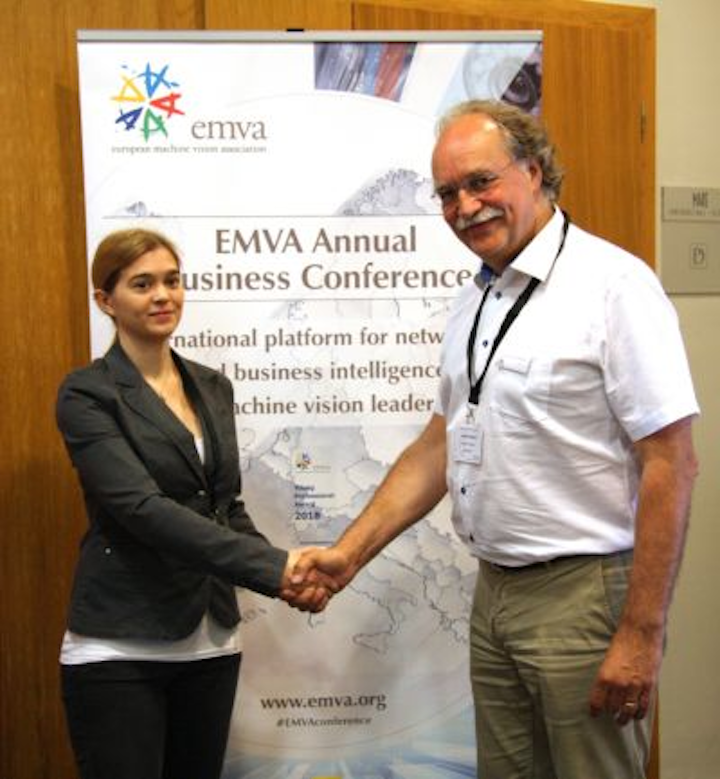 Doris Antensteiner, who works at the Austrian Institute of Technology Center for Vision, Automation, and Control, has received the 2018 EMVA Young Professional Award for her "Light Field and Photometric Stereo" work, which improves the process of acquiring the precise 3Dsurface reconstruction of objects.
Recovering the shape and reflectance properties of a scene, explains the EMVA, are fundamental problems in computer vision, and conventional imaging systems only provide limited information, as they are unable to capture directional radiance information, and only provide the sum of light at each image position. A more complete description can be acquired by using light field cameras and photometric stereo approaches.
Antensteiner, 32, developed an approach that resolves the problematic nature of acquiring the precise 3D surface reconstructions of objects, with a focus on industrial applications. This is done by analyzing light rays passing through the camera lens, which capture a scene illuminated from a defined direction. An optimal fusion of light field and photometric stereo, according to the EMVA, is found using variational methods. Solutions for both area scan and multi-line scan cameras were demonstrated using this method. Applications of Antensteiner's work lie in the field of product inspection, defect detection, brand protection, product security and optical inspection of materials, suggested the EMVA.
Each year, the EMVA gives out its Young Professional award to honor the outstanding and innovative work of a student or a young professional in the field of machine vision or image processing with the ultimate goal of further supporting innovation in the machine vision industry, to contribute to the important aspect of dedicated machine vision education, and to provide a bridge between research and industry. The EMVA also hopes to specifically encourage students to focus on challenges in the field of machine vision and to apply the latest research results and findings in computer vision to practical needs of the industry.
This year's award was given on June 9 during the 16th EMVA Business Conference in Dubrovnik, Croatia. As a result of her winning, Antensteiner also presented her work as part of the regular conference program. Next year, the EMVA Business Conference will take place from May 16-18, 2019, in Copenhagen, Denmark.
View more information on the EMVA.
Share your vision-related news by contacting James Carroll, Senior Web Editor, Vision Systems Design

To receive news like this in your inbox, click here.
Join our LinkedIn group | Like us on Facebook | Follow us on Twitter