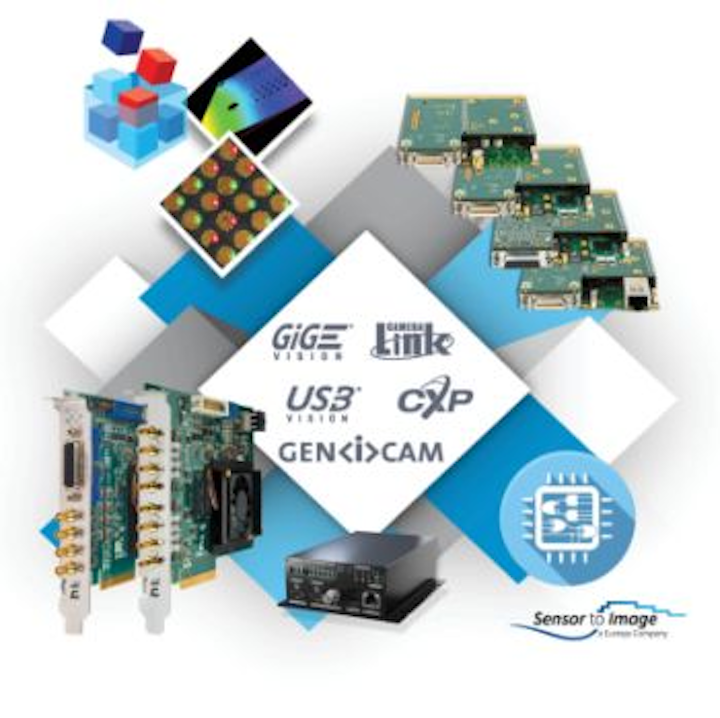 At the Euresys booth at VISION 2018 in Stuttgart, Germany; Euresys will showcase its latest machine vision products, including its two latest libraries of Open eVision software, EasyDeepLearning (deep learning applications) and Easy3D (3D applications). EasyDeepLearning is a convolutional neural network-based image classification library that has been tailored, parametrized and optimized for analyzing images, particularly for machine vision applications. Easy3D is a set of software tools to build 3D inspection applications that can generate depth maps from a series of images that contain a laser line projected on the inspected object and computes a calibration model applied to depth maps to transform them into calibrated 3D point clouds.
Also on display will be the company's latest CoaXPress frame grabbers, the Coaxlink Quad CXP-12 (4-connection 12 Gbps CoaXPress 2.0 frame grabber), the Coaxlink Octo (8-connection CXP-6 frame grabber), and its new Camport video converters, which makes it possible to update a wide range of existing cameras and other image sources to support the latest vision interface standards. Additionally, Euresys will show its Picolo.net HD1 H.265 video server, which streams video from one full HD (1080p60 or 1080i60) source over an IP network.
Sensor to Image will also be present at the Euresys booth, showcasing the latest versions of the GigE Vision 2.1, USB3 Vision and CoaXPress 2.0/CXP-12 IP core and solutions to interface sensors with output according to the MIPI CSI protocol and Sony IMX Pregius imagers.
VISION 2018 booth number: Hall 1, Booth 1H46

To Learn More:
Contact:Euresys
Headquarters: Angleur, Belgium
Products : EasyDeepLearning and Easy3D Open eVision libraries, CoaXPress frame grabbers, Camport video converters, Picolo.net HD1 H.265 video server.
What Euresys says:
View more information on the Open eVision libraries.
View more information on the CoaXPress frame grabbers.
View more information on the Camport video converters.
View more information on the Picolo.net HD1 H.265 server.
View More Products| Locate a vendor or system integrator | Receive e-mail updates
Share your vision-related news by contacting James Carroll, Senior Web Editor, Vision Systems Design

To receive news like this in your inbox, click here.
Join our LinkedIn group | Like us on Facebook | Follow us on Twitter