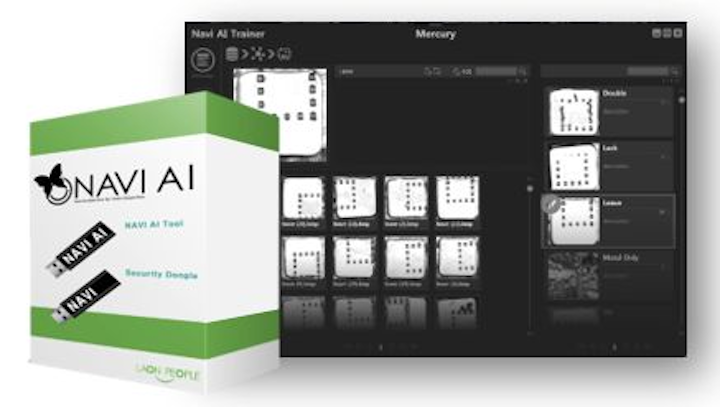 At VISION 2018 in Stuttgart, Germany; Laon People will showcase a number of its deep learning and machine vision products, including its NAVI AI (New Architecture for Vision Inspection) deep learning software. NAVI AI uses deep learning algorithms and a customer's image sample and will create hundreds to tens-of-thousands of images from the sample to find the needed setting for inspection through self-learning. NAVI AI deep learning vision inspection software has been deployed in many applications, including semiconductor and electronics inspection and printed circuit board inspection.
In addition to the deep learning software, Laon People will showcase its LPSC-700 smart camera, which can perform standalone deep learning inspection applications. The camera features an NVIDIA Jetson TX2 embedded AI computing device and can perform deep learning applications at speeds from 5 fps to 20 fps without a PC. Additionally, Laon People will show its new 151 MPixel (14192 x 10640) LPMVC-CXP150M machine vision camera, which has a dynamic range of 92 dB and acquires images at 6 fps.
VISION 2018 booth number: Hall 1, Booth 1A52

To Learn More:

Contact:Laon People
Headquarters: Seongnam-si, Gyeonggi-do, South Korea
Products: NAVI AI deep learning software, LPSC-700 smart camera, 151 MPixel machine vision camera.

What Laon People says:
View more information on the software.
View More Products| Locate a vendor or system integrator | Receive e-mail updates
Share your vision-related news by contacting James Carroll, Senior Web Editor, Vision Systems Design

To receive news like this in your inbox, click here.
Join our LinkedIn group | Like us on Facebook | Follow us on Twitter