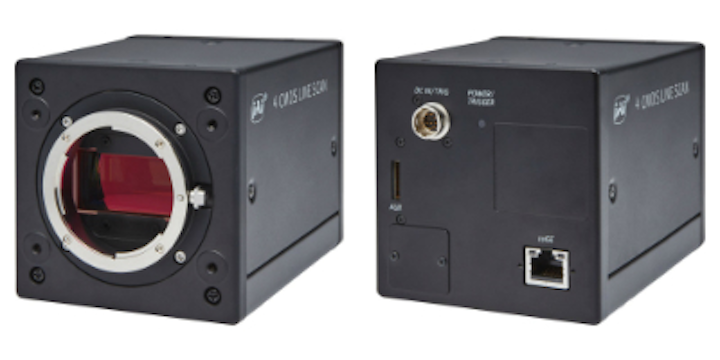 The Sweep+ SW-4000Q-10GE camera from JAI features four prism-mounted CMOS sensors that can simultaneously capture red, green, blue, and near infrared wavebands. The camera has a maximum resolution of 4096 pixels per channel, and RGB + NIR output up to 72 kHz over dual 10 GigE streams.
The camera has two pixel sizes, 7.5 x 7.5 µm and 7.5 x 10.5 µm. The 10 GigE interface is backwards-compatible with 5, 2.5, and 1 Gbps Ethernet standards. The SW-4000Q-10GE has two lens mount options, a Nikon F-mount or an M52 mount.
Gain and black level adjustment, manual or automatic white balancing, shading correction, PRNU and DSNU correction, region-of-interest settings, and chromatic aberration compensation are additional features of the SW-4000Q-10GE.

To Learn More:
Contact:JAI
Headquarters: San Jose, CA, USA
Product: SW-4000Q-10GE camera
Key Features: TK
What JAI says:
View more information on the SW-4000Q-10GE camera.
Share your vision-related news by contacting Dennis Scimeca,Associate Editor, Vision Systems Design
To receive news like this in your inbox, click here.