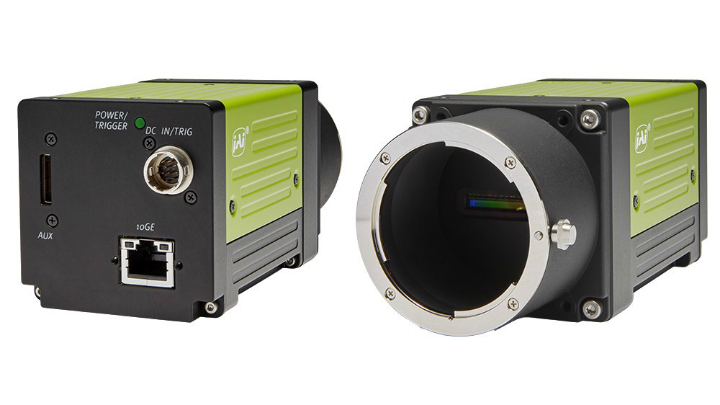 Featuring a backwards-compatible 10 GigE interface, the SW-4000TL-10GE trilinear line scan camera features 4K (4096 pixel) resolution and 66 kHz line rate for 24-bit non-interpolated RGB output.
The trilinear, custom CMOS imager feature six separate lines of 7.5 µm pixels with two lines each of red, green, and blue pixels, enabling horizontal binning, vertical binning, or both. The sensor combines the readout of two pixels through a single diffusion node to double the signal without increasing noise.
The SW-4000TL-10GE also features a color conversion capability to provide native HSI or CIEXYZ color output, and automatic backwards compatibility from 10GBASE-T to NBASE-T or 1000BASE-T. Nikon F-mount or M42x1 mount with 16 mm flange back distance are available.
To Learn More:
Contact: JAI
Headquarters: San Jose, CA, USA
Product: SW-4000TL-10GE camera
Key Features: 4k resolution, 66 kHz line rate, horizontal and vertical binning, 10 GigE interface.
What JAI says: View more information on the SW-4000TL-10GE camera.
Share your vision-related news by contacting Dennis Scimeca, Associate Editor, Vision Systems Design

SUBSCRIBE TO OUR NEWSLETTERS