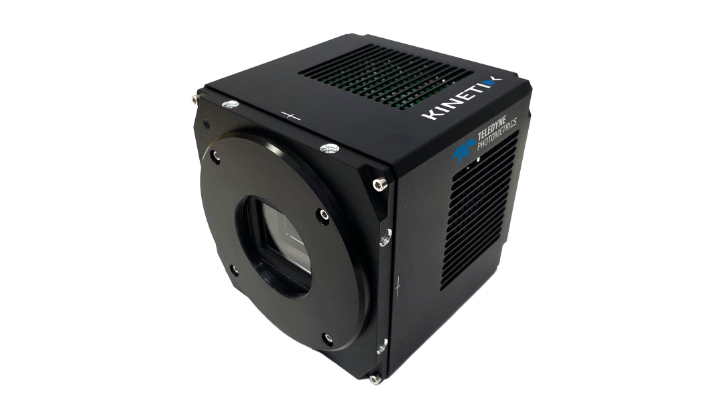 The Kinetix back-illuminated sCMOS camera from Teledyne Photometrics can capture >400 full frames per second, has 10 MPixel resolution at 3200 x 3200, a 6.5 µm pixel, and 29.4 mm diagonal field of view.
Correlated Multi-Sampling technology provides a QE of >95% , and the Kinetix has median read noise of 1.2 e-. The camera is sensitive in the UV (200 nm – 400 nm), visible (400 nm – 700 nm), and near infrared (700 nm – 1000 nm) bands.
The camera supports PCIe Gen 3 and USB 3.2 interfaces and features rolling shutter, effective global shutter, and programmable scan mode readouts. T-Mount, F-Mount, C-Mount, and swappable mounts are supported.
To Learn More:
Contact: Teledyne Photometrics
Headquarters: Tucson, AZ, USA
Product: Kinetix sCMOS camera
Key Features: >400 fps,10 MPixel resolution, 3200 x 3200, 6.5 µm pixel, 29.4 mm diagonal field of view, >95% QE, 1.2 e- read noise.
What Teledyne Photometrics says: View more information on the Kinetix sCMOS camera.
Share your vision-related news by contacting Dennis Scimeca, Associate Editor, Vision Systems Design

SUBSCRIBE TO OUR NEWSLETTERS