Wilson's Websites
Wilson's Websites brings you the latest information on what's new on the Web.
Oct 1st, 2005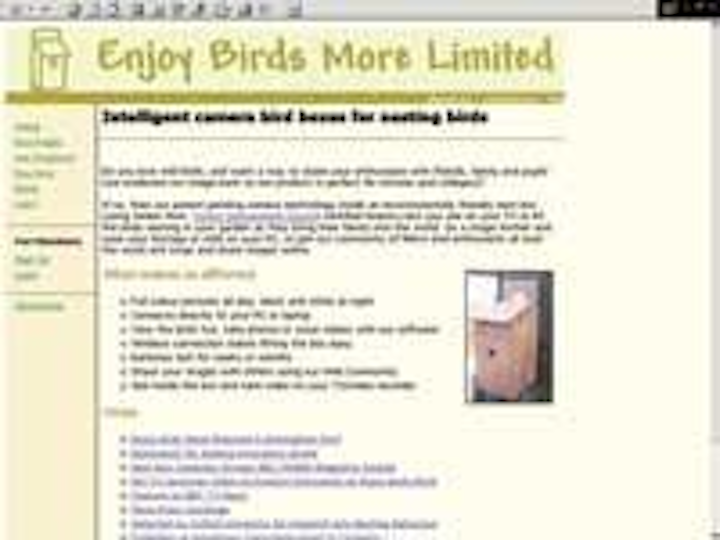 Wilson's Websites brings you the latest information on what's new on the Web. To accomplish this, we provide links to tutorial information, hardware or software product developments, product database information, technical articles, associations, and on-line magazines. If you or your company would like to be considered for Wilson's Websites, please contact Andy Wilson at andyw@pennwell.com.
Food and vision
asae.frymulti.com
This Web site describes how to combine the harvesting of produce with machine-vision systems. Type "machine vision" into the query box, and the site will list more than 1000 technical papers about this subject from the American Society of Agricultural Engineers. While you can view the abstracts for free, you'll have to pay to download the complete papers.
Code blue
www.orbidcorp.com
Check out this site for a description of Orbid's unique two-dimensional mark-identification code for product tracking and tracing. The code-marking system will be deployed by Prolacta Bioscience to track breast milk through production to final distribution.
Bird watching
www.enjoybirdsmore.co.uk
Someone once said that the application of vision was unlimited. And you only have to check out this site to see why. Enjoy Birds More Limited has developed a bird nest box that wirelessly transmits images of birds in the box to your home TV or PC.
Automotive apps
www.visionintegrator.com
Decision Technology (Indianapolis, IN, USA), a machine-vision integrator, discusses three automotive applications on its Web site: weld-quality assessments, clutch-plate and friction-ring inspection, and wrinkle-detection of leather car seats.
Get embedded
www.bitec.ltd.uk
Little-known UK-based Bitec Limited has a range of products targeted at the embedded-systems developer. These include a smart camera with embedded TCP/IP wireless LAN and a smart camera with embedded TCP/IP Ethernet.
Wholesale imaging
www.ccddirect.com
Many suppliers of OEM components such as cameras, frame grabbers, and cables are reluctant to place pricing information on their Web sites. However, CCD Direct lists pricing information for cameras, frame grabbers, and software from numerous vendors.
Vision solutions
macc.mcmaster.ca/vision
Snack foods, pulp and paper, lumber, and steel are just some of the industries served by the McMaster Advanced Control Consortium, an industrially oriented research center within McMaster University. On its site, you will see many of the organization's vision-based technologies that are now commercially available from ProSensus (www.prosensus.ca).
Firewire support
www.ab-soft.com
If you have a FireWire camera, you may want to check out A&B Software's ActiveDcam component software designed to provide developers with access to FireWire (IEEE 1394) digital cameras. With ActiveDcam, machine-vision applications can support multiple DCAM-compliant cameras.
Feature measurement
www.cdiweb.com/mel
MEL Mikroelektronik's M2D laser scanner provides 2-D measuring of profile heights by projecting laser lines onto a target and measuring the distance to points on the object by triangulation. Product descriptions, theory of operation, and typical applications can be found on the site.
X-ray inspection
www.vjt.com
If you are interested in automated x-ray inspection systems, how they work, and how to build them, check out the site of VJ Technologies. There you'll find technical information, case studies, and descriptions of some of the products the company offers.
Vision engineering
visionengineeringinc.com
Vision Engineering is a system integrator that specializes in custom machine-vision software. Custom systems for quality control inspection applications the company has developed include carcass tracking, gypsum inspection, and color monitoring.