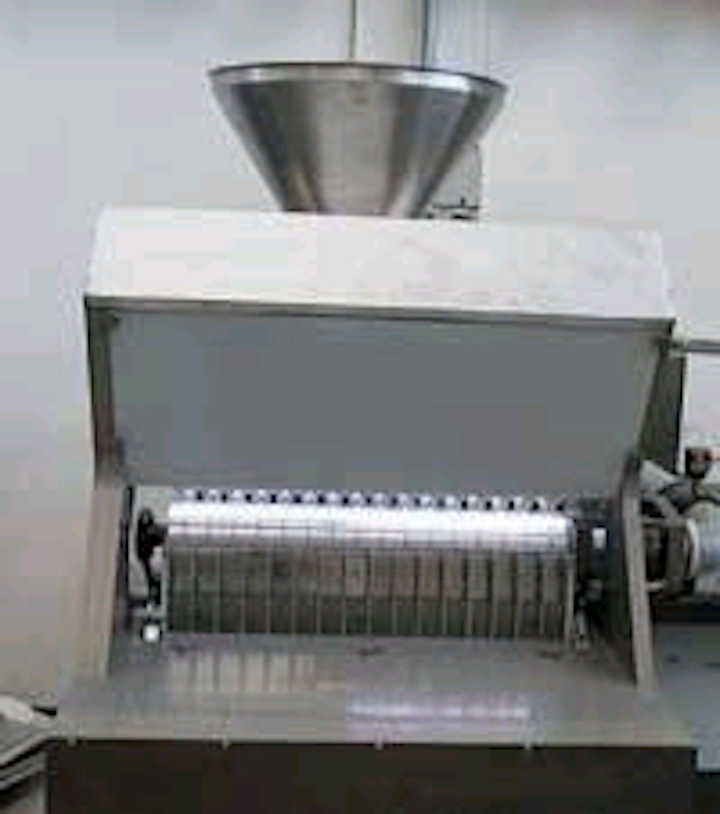 IMA - Industria Macchine Automatiche Spa (Bologna, Italy; www.ima.it), a manufacturer of packaging machines, needed to create a next generation of high-speed tablet- and capsule-bottle-filling equipment that could fill 300 bottles per minute. The design of the machine demanded a vision system that could count the tablets with 100% accuracy and verify their integrity in terms of both size and color. When a defective tablet was identified, the vision system had to provide for single-tablet rejection, avoiding discarding the whole bottle. The tablets to be checked are positioned automatically on a roll rotating at 40 m/minute.
To measure both size and color, Tattile (Brescia, Italy; www.tattile.com) developed a vision system composed of four of the company's Tapix LCD 1024-pixel color linescan cameras that acquire an image along the complete width of the roll of pills. The image acquisition is synchronized with the rotation via an encoder positioned on the roll itself.
null
"Particular care was given to the design of the illumination system," says John Merva, president of Tattile USA (Bedford, NH, USA). "By using high-luminosity white LEDs, collimated with cylindrical optics, high uniformity and intensity were guaranteed. To contain the four linear cameras and the LED illuminators, a sturdy mechanical system was created to allow quick, precise adjustment and alignment of the four linescan cameras."
After images are captured they are transferred over a Camera Link interface to two Tattile M4 SmartReader image processors. Each SmartReader M4 analyzes the image from two linear cameras, counting the tablets during their transition and verifying their integrity (area, perimeter, and shape) and color. Specially developed software algorithms count any tablet or capsule type, regardless of shape or color.
"Four bottles are filled at the same time, as the tablets drop from 16 feeding channels," says Merva. "The SmartReader M4s autonomously performs the tablet counting and also control by means of digital outputs-the single-tablet discard and pneumatic actuators that perform final pill counting at rates as fast as 1 ms." The human machine interface (HMI) allows operators to set the working parameters of the cameras and manage operator setups according to the US Food and Drug Administration (Rockville, MD, USA; www.fda.gov) 21 CFR regulations. Merva says that this HMI is easy to use and is provided with simple procedures guiding the user through the setup of all required parameters.
The Tattile system has allowed IMA to produce a machine that fills up to 300 bottles/min while guaranteeing 100% product control. "Although this system is currently deployed in Italy, Tattile hopes to adapt the technology for US-based pharmaceutical vendors," Merva says.