Camera offers point-and-shoot
TroubleShooter HR is a portable, high-speed digital camera offering 1280 × 1024 pixel resolution at up to 500 full frames/s; it can record up to 16,000 reduced-resolution frames/s.
Jan 1st, 2005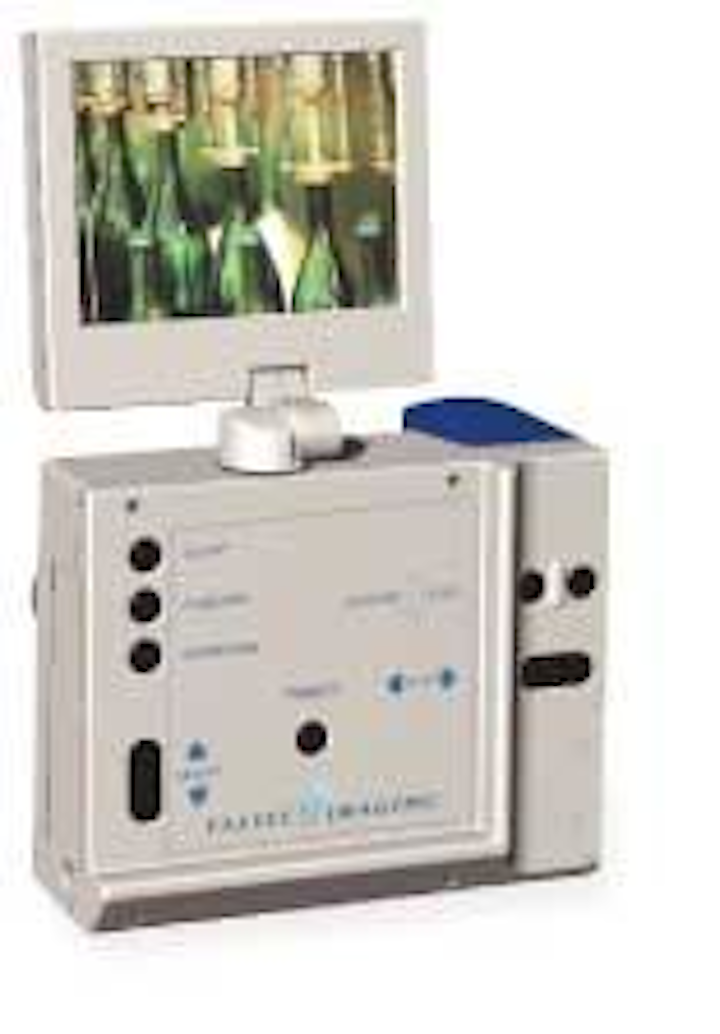 TroubleShooter HR is a portable, high-speed digital camera offering 1280 × 1024 pixel resolution at up to 500 full frames/s; it can record up to 16,000 reduced-resolution frames/s. At 250 frames/s, the camera can record up to 3.5 min, and at 1000 frames/s up to 1 min. The USB 2.0-connected camera comes with built-in view finder, CompactFlash memory, and battery operation. Includes CamLink control software and MotionMeasure Software suite for image analysis.
Fastec Imaging
San Diego, CA, USA
www.fastecimaging.com
Smart cameras designed for OEMs
Iris P-Series smart cameras feature hardware for image sensing, as well as a software application programming interface for image analysis. Iris P-Series camera family is fully programmable and can be customized by OEMs and integrators. All models are powered by low-power Celeron processor. The cameras run the Windows CE .NET real-time operating system, and OEMs and integrators can develop their applications with the Matrox Imaging Library.
Matrox Imaging
Dorval, QC, Canada
www.matrox.com
Compression engine aids security
FalconEye-MP PCI bus MPEG4 video/audio-compression engine provides four video ports and four compression engines on a single PCI plug-in board. The compressed data can be transmitted to local/remote location through LAN, WAN, or Internet. The engine supports color (NTSC/PAL) or monochrome (RS-170/CCIR) video sources and can process 30 CIF frames/s for each of the four video sources simultaneously. Brightness, contrast, hue, and saturation are independently adjustable with software. An optional no-audio version of the FalconEye-MP is available for areas where audio recording is limited by law.
MuTech
Billerica, MA, USA
www.mutech.com
Controller can retrofit motion systems
Nservo Controller Module allows any industry-standard analog transconductance amplifier to interface to the company's digital drive network. Nservo is a digital two- or four-axis servo controller. It comes with 11 digital inputs, eight digital outputs, four analog inputs, two analog outputs, and expandable I/O, and includes Ethernet capability. A FireWire bus provides deterministic behavior, auto-identification, and software setup from the NMotion SMC software controller.
Aerotech
Pittsburgh, PA, USA
www.aerotech.com
Sensor reads license plates
MT9V022, a CMOS sensor for automotive applications, has 75-110 dB+ dynamic range and can capture light levels to below 0.1 lux. The 750 × 480 active-pixel sensor comes in a 1/3-in. format, is available with monochrome or RGB Bayer color filters, and in progressive or interlaced scan modes, and provides 8 or 10 bits in parallel or LVDS formats. At full frame rate, the sensor delivers 60 frames/s, and the spectral range is 450-1050 nm. Operating range is -40°C to 80°C.
Micron Imaging
Boise, ID, USA
www.micron.com
PCs are rack-mounted
Efficient design of new AE series of PCs permits easy upgrade of on-board components. The 1U range offers both PIII and P4 logic boards. The 2U range offers a choice of both P4 logic and motherboards with up to 300-W ATX power supply and 64-Mbyte VRAM. The 4U range offers both P4 logic and motherboards with up to 400-W ATX power supply and 64-Mbyte VRAM. Each unit has the option of having Microsoft Windows NT 4.0, 2000 Professional, or XP Professional preinstalled.
Nematron Europe
Waterlooville, UK
www.nematron.com
Sensors see color
In-Sight 5400C and In-Sight 5401 high-resolution industrial-grade vision sensors are designed to perform a range of color inspection tasks. The high-resolution (1024 × 768) In-Sight 5101 is self-contained, meets IEC specifications for shock and vibration, and achieves an IP67 (NEMA 6) rating for dust and washdown protection without the need for a separate industrial enclosure. The units include In-Sight Explorer software, which provides tools to simplify application development and network administration. PatMax software is available as an option.
Cognex
Natick, MA, USA
www.cognex.com
Board delivers high speed Features of new dual-image-acquisition X64-CL iPro include simultaneous acquisition from two independent Base Camera Link cameras, acquisition pixel clock rates up to 85 MHz, 32-Mbyte dedicated on-board frame buffer memory for improved reliability, FPGA-based on-board processing engine, and shading correction for Base and Medium Camera Link cameras. The X64CL iPro is supported by Sapera LT software and Sapera Processing software.
Coreco Imaging
St.-Laurent, QC, Canada
www.imaging.com
Camera offers FireWire interface
PL-A780 digital camera has 6.6-Mpixel resolution. It does not require a frame grabber and communicates with a host computer over a FireWire (IEEE-1394) interface. The camera delivers 5 frames/s at full resolution, with frame rates increasing for smaller regions of interest of decimation modes. The camera also supports off-chip binning and averaging to effectively increase the pixel size and provide high-quality images at lower resolutions. Image quality is further enhanced by on-board illumination corrections that are applied in real time.
PixeLINK
Ottawa, ON, Canada
www.pixelink.com
Connector improves GigE performance
Enhancements to iPORT Vision Connectivity Solution improve performance of Gigabit Ethernet-based imaging systems by adding features to the control software for general-purpose I/O, including an encoder input, a rescaler, and an event delayer. The new features improve synchronization in triggering cameras, strobe lights, and other vision system elements in real time. A high-memory driver increases PC memory available for vision applications, allowing image data to be stored in up to 64 Gbytes of Windows kernel memory. iPORT SDK runs under the SuSe distribution of Linux OS, Windows OS, and Redhat 9.0.
Pleora Technologies
Kanata, ON, Canada
www.pleora.com
Cameras have higher resolution
New 3-Mpixel IQeye600 and IQeye300 Series IP cameras have high definition and offer high-quality digital zoom in live and recorded video. The IQeye603 features 40 million-pixel/s throughput, which allows more than 12 images/s of 3-Mpixel video. The IQeye303 offers 3-Mpixel images with the option of a PC card slot that supports wireless and on-camera storage using FLASH cards or microdrives. IQlibrarian recording/playback with support for commodity storage is included.
IqinVision
Santa Ana Heights, CA, USA
www.iqeye.com
Compact camera has high resolution
Compact (1.7 × 1.7 × 3.1 in.), lightweight IK-TF5 color camera has three 1/3-in. progressive-scan CCDs with square pixels. The design eliminates image jitter and RGB shift, while ensuring maximum spatial resolution of high-speed objects. Highlights include a partial-scan mode that reads out up to 180 frames/s, RS-232C (9600 or 19200 baud) remote- control port, electronic shutter (1/100-1/100,000 s), one- or two-pulse random trigger, and C mount.
Toshiba America Information Systems
Irvine, CA, USA
www.cameras.toshiba.com
Stages improve resolution
P-733 scanning stages provide 0.1-nm positioning resolution in xy and xyz motion. They can move from one position to another in a millisecond or less or run in continuous mode at scanning rates of hundreds of hertz. This improvement is achieved by a very stiff, parallel-kinematics piezoceramic direct-drive design resulting in a highly resonant frequency of 2.3 kHz. The stages have negligible EMI.
Physik Instrumente
Auburn, MA, USA
www.pi-usa.us
Programmable cameras feature Camera Link
IPX-VGA90 and IPX-VGA120 high-speed progressive-scan cameras feature B&W and color versions, programmable operation, Camera Link output, and a frame rate of 90 and 120 frames/s, respectively, at full resolution of 640 × 480 pixels. Programmable features include resolution, frame rate, electronic shutter, long integration, external trigger, pre-exposure, strobe output, gain, and offset. The programmable electronic shutter can stop motion with speeds from 1/90 to 1/40,000 s or can provide time exposures as long as 10 s for low-light applications. The cameras run off 12-Vdc supply capable of providing 330 mA.
Imperx
Boca Raton, FL, USA
www.imperx.com
X-ray detectors scan
X-Scan x-ray linear array detectors have 0.2-mm pixel pitch, enabling image acquisition with great detail. Housed in an aluminum frame, the detectors work with x-ray settings from 20 to 160 kVp. Maximum scanning speed is 40 m/min
or about 0.3-ms minimum line integration time. The detectors can be supplied with cables and power supply and can be directly connected to a USB 2.0 interface on a PC or optionally to Coreco or I2S frame-grabber boards.
Detection Technology
Nutley, NJ, USA
www.deetee.com
I/O module connects to buses
Flexible intermodule connection unit, the Fieldline I/O, enables the placement of I/O modules around mechanical restrictions, creating a distributed I/O network that is independent of the fieldbus. This lowers design costs by providing machine-standardized I/O layouts with fieldbus flexibility and also allows faster machine cycle times by reducing the network load on the fieldbus. Fieldline Modular I/O is equipped with Speedcon M12 connection technology that makes a secure, watertight, and vibration-proof connection of sensors, actuators, bus cables, and power. Speedcon requires no special adapters, making it backward, forward, and future compatible.
Phoenix Contact
Harrisburg, PA, USA
www.phoenixcon.com
Software reads 2-D code
EasyMatrixCode, part of the eVision software tool suite, is a 2-D Data Matrix code library reader designed for poor illumination conditions such as nonuniform contrast and under- or overexposure.
The tool is rotation, flipping, and scaling invariant and supports multiple matrix codes. It automatically compensates for illumination changes and can perform print-quality verification.
Euresys
Angleur, Belgium
www.euresys.com
Sensor provides fast response
AT71548 triple time-delay-integration CCD image sensor has 5200 pixels per line and 32 lines. Pixel size is 13 μm2, and spectral range is from 400 to 1000 nm. Output is 12 (4 per TDI), and data rate is 8000 line/s. Average dark signal is 75 μV/ms, noise (including dark signal) is 300 μV, and responsivity (KGI filter) is 300 V/μJ/cm2. The packaging weight of the AT71548 is 72 g, and the operating temperature is -40°C to +85°C.
Atmel-Grenoble
Saint Egreve, France
www.atmel.com/products/ccd
Sensors check packaging
Line of vision sensors support packaging industry. DCI vision sensors check the number of pixels printed on a date or lot code to verify clear printing and ensure that only products with a code pass. AGD sensors detect the gloss from a product using reflections created by its own integrated light source to detect orientation. ICS sensors offer up to 3.1 × 3.1-in. field of view with integrated lighting or 6.3 × 6.3 in. FOV with external lighting. ICS 009 is available with a C-mount lens.
SICK
Minneapolis, MN, USA
www.sickusa.com
Camera is weather resistant
Offering 420TVL of resolution, the ILC-HV4 incorporates a Dupont Viton O-ring that provides resilience to UV radiation emitted by the sun. The ILC-HV4 comes with an aluminum sunshield, reducing any possible rain interference to an image and providing a shade to eliminate glare. The camera also comes with 24 infrared LEDs at 840 nm, providing an effective IR distance of 45 ft.
Polaris Industries
Norcross, GA, USA
www.polarisusa.com
Camera addresses auto demands
ACM100 automotive camera can be used under any lighting condition and has been designed to function in automotive environmental conditions for extended time. It includes a VGA 1/3-in. monochrome CMOS imager and Autobrite adaptive wide dynamic range and has near-IR and low-light sensitivity. Features include internal 12-bit image correction, exposure control, and postprocessing to ensure data integrity. In addition, there is region-of-interest exposure control, flexible image processing, and strobe synchronization. The camera is designed to operate from -40°C to 85°C.
SmaL Camera Technologies
Cambridge, MA, USA
www.smalcamera.com