Industrial Testing: Linescan cameras, lenses inspect FPDs
In the past 10 years, flat-panel displays have evolved from 320 × 400-pixel, 12- and 15-in. displays to 32- to 40-in. displays with 1880 × 2150 addressable pixels.
Jan 1st, 2005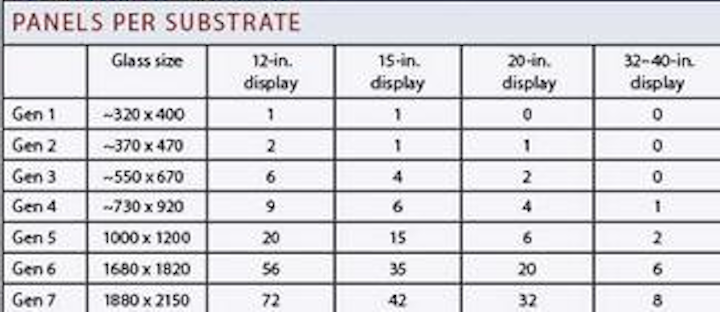 In the past 10 years, flat-panel displays have evolved from 320 × 400-pixel, 12- and 15-in. displays to 32- to 40-in. displays with 1880 × 2150 addressable pixels. The number of panels per glass substrate has also increased allowing flat-panel vendors to increase the efficiency of display production (see table on p. 20).
Machine vision plays a vital role in the manufacturing process at several stages in the production line. "Not only are manufacturers inspecting the glass substrates, they are also checking the displays as they are assembled," says Dave Cochrane, director of product marketing at Dalsa (Waterloo, ON, Canada; www.dalsa.com). "This has resulted in the development of several types of inspection systems that use multiple linescan camera systems to image the displays, a worldwide market of thousands of cameras per year."
To inspect large flat panels, defects of less than 10 μm must often be detected. Multiple linescan cameras are often used to scan the face of the display. For these demanding applications, Dalsa has recently introduced its CCD-based Piranha3-12k linescan camera. With 12,288 pixels, 8 taps, 24-kHz line rate, and a data rate totaling 320 MHz, the camera can be programmed over a Camera Link interface to provide flat-field correction, a programmable line rate, exposure time, and gain.
"The new cutting-edge inspection systems require optics close to the limits of physics," says Dirk Muschert, director of marketing at Schneider Kreuznach (Bad Kreuznach, Germany; www.schneider-kreuznach.com). "The imaging quality of the vision system (system MTF) depends on how well the optics design is matched to the sensor's design and the inspection system's configuration."
Schneider has introduced three 12k 5.6/120-mm linescan lenses designed to enable vision-system integrators and equipment manufacturers to use high-resolution 12k linescan cameras. Sold under the company's Makro-Symmar brand, these lenses feature an image circle of up to 90 mm and optical resolution for the 5- or 7-μm-pixel size capabilities of 12k cameras. "This coverage area, resolution, and 0.1% distortion rate allow system designers to use 12k cameras to improve productivity in surface and web-inspection processes," says Muschert.
"The Schneider lens/camera mount enables simple, precise lens-to-CCD alignment. When working with 12k arrays, it is imperative that the lens is precisely aligned to be coplanar with the CCD. Achieving such true alignment can be virtually impossible with ordinary mounts because of the sheer size and often difficult placement of the CCDs found in large linescan cameras," says Stuart Singer, vice president of industrial optics at Schneider Optics USA (Hauppauge, NY, USA; www.schneideroptics.com).
In the development of the lens, Schneider understood the need to mark each lens individually so that the best average azimuth line (highest performance) of the lens can be achieved. This enables systems integrators to rotate the lens to its optimal alignment with the camera's CCD to achieve the lens's absolute highest resolution and contrast.
"By testing the camera/lens combination against a test image, the system can be adjusted to bring the 12,288 pixels into alignment," Singer says. At present, Schneider's 12k linescan lenses are available in 0.5x, 0.75x, and 1:1 versions that all feature an iris locking mechanism to ensure reliable measurements in high-vibration manufacturing environments.