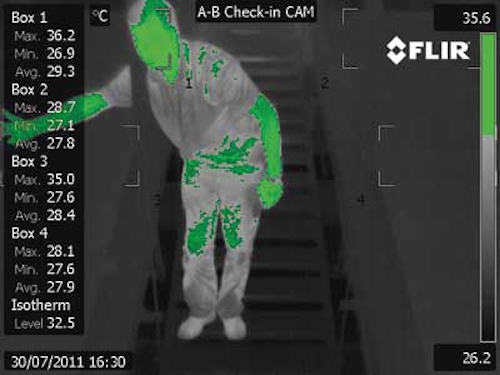 Each year, there are several accidents worldwide at airport check in areas where someone, usually a young child, escapes the attention of their parents and sneaks through the rubber flaps into the baggage belt conveyor system.
Apart from frightening the child, the many moving parts and conveyor belts in the baggage distribution system can cause serious injuries. That is why the Sabiha Gökçen International Airport in Istanbul, Turkey, has installed a thermal imaging safety system that shuts down the conveyor belts the moment anyone enters the baggage handling area.
The safety system, which was installed by Sentez (Istanbul, Turkey; www.sentezgroup.com.tr) consists of four FLIR (Wilsonville, OR, USA; www.flir.com) A310 thermal imaging cameras, each covering two conveyor belts leading from the check in area to the baggage handling system. For each thermal imaging camera four regions of interest (ROI's) are defined and a temperature threshold is set at around 31°C.
For the thermal imaging cameras to trigger the safety system to automatically shut down the conveyor, however, it is not enough for a small part of the ROIs to reach a temperature above the threshold. Over about 20% of the area in the thermal image that is defined as a ROI needs to be above the threshold to trigger the system.
When the cameras detect an object in the field of view with a high enough temperature, the thermal image is instantly displayed in the control room and automatically emailed to airport officials. This enables them to determine whether it is a person or a piece of exceptionally warm piece of baggage triggering the system.
The FLIR A310 thermal imaging cameras used in the conveyor belt safety system contain an uncooled microbolometer that captures 320 × 240 pixel thermal images at a thermal sensitivity of 50 mK (0.05°C). FLIR IR Monitor software was used to fine tune the camera settings to reduce the amount of unwanted alarms without compromising the performance of the system.
More Vision Systems Issue Articles
Vision Systems Articles Archives