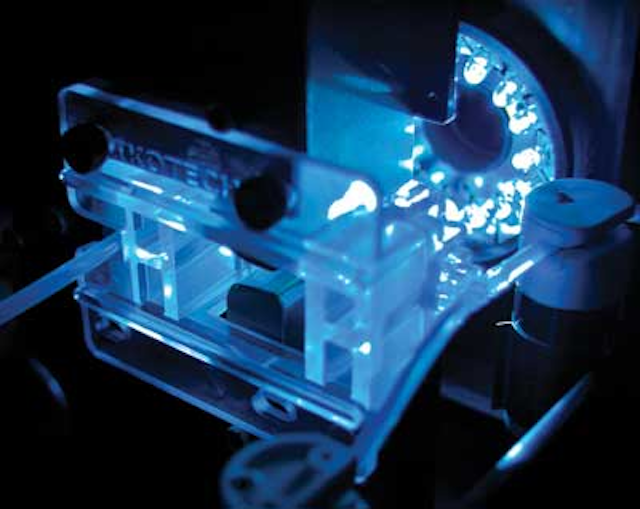 Ikotech (www.ikotech.com) has developed a system called the HyperFlux to analyze the size of cells and their concentrations and magnetophoretic mobility-or particle velocity-within a magnetic field.
The system employs a microscope to image cells in a micro-capillary glass tube that is mechanically aligned within a custom magnet assembly. The magnet causes cells that contain magnetically responsive materials to move laterally, while gravity induces vertical motion that is related to the mass, density, and size of the cell.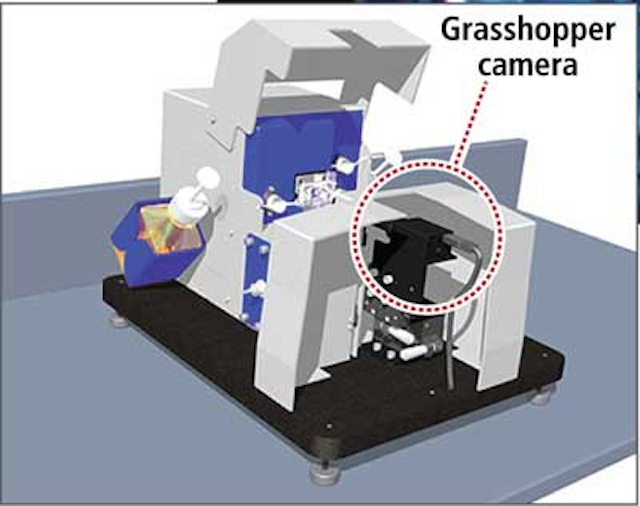 Consisting of a darkfield LED ring that illuminates the capillary tube and a 1600 ×1200-pixel Grasshopper GRAS-20S4M-C 2.0 M monochrome FireWire CCD camera from Point Grey (www.ptgrey.com) paired with a 2X–8X telecentric lens from Edmund Optics (www.edmundoptics.com), the system captures images at rates up to 30 frames/sec.
Images are recorded to a Dell dual quad-core PC running Ubuntu Linux. The computer runs custom software, written using Point Grey's FlyCapture library, that automates the image capture and analysis.
Image samples are taken in sets, with each set representing a fresh fluid sample in the field of view. Each image is analyzed to identify each particle or cell as an object. The objects are identified in subsequent frames and linked together as a single track via a database. The characteristics of each cell such as their size, brightness, surface roughness, and elongation are measured in each frame.
Open-source data presentation tools allow the user to visualize the data using single-parameter histograms, dual-parameter scatter plots, and 3-D dot plots.
More Vision Systems Issue Articles
Vision Systems Articles Archives