New Products
Linescan camera offers Camera Link; Bridge extends FireWire; CCD camera aids biotech; MORE...
Dec 1st, 2004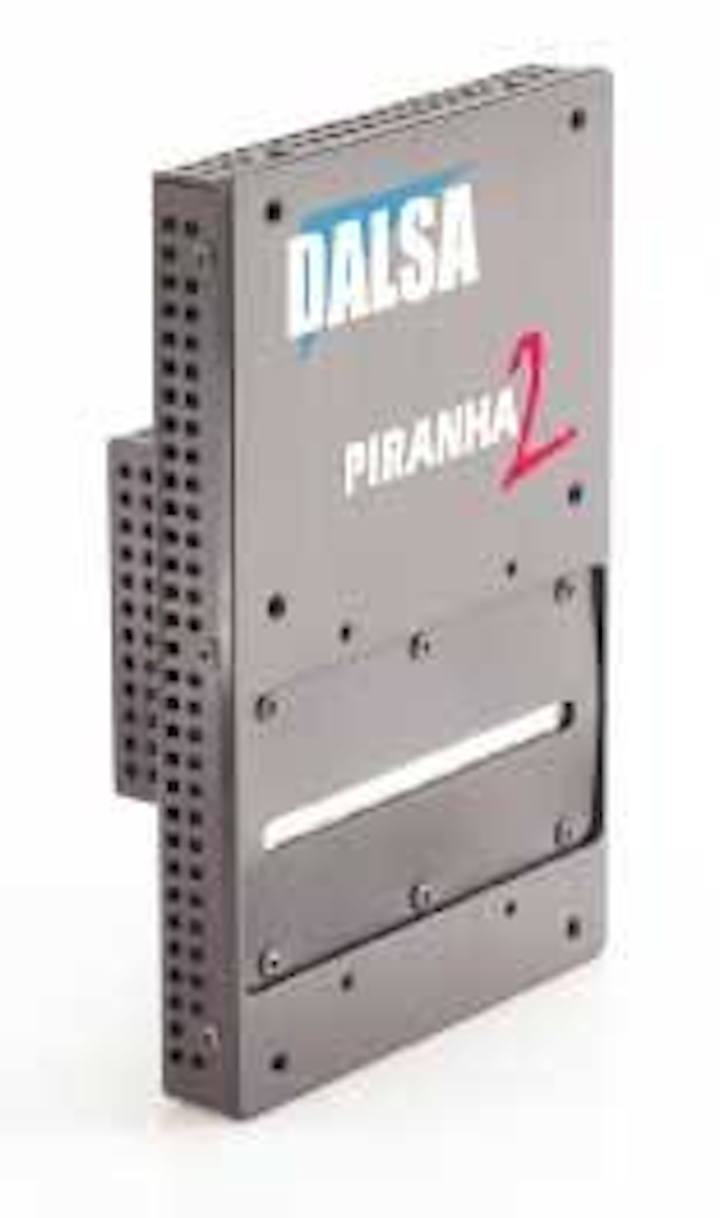 Linescan camera offers Camera Link
Piranha2-12k offers 12,288-pixel resolution, eight output taps, 24-kHz line rate, and a data rate totaling 320 MHz. Features include flat-field correction, programmable line rate, exposure time, gain, and diagnostics through Camera Link interface. A single 12- to 15-V power supply, test pattern and diagnostics, and offset control are included.
Dalsa
Waterloo, ON, Canada
www.dalsa.com
Bridge extends FireWire
FB1394B Fiber Optic Bridge extends standard FireWire transmission to 500 m over IEEE 1394 fiber. Any standard FireWire device can be connected to a host computer that is up to 0.5 km away. The device consists of two units that are available separately as the FA1394B Fiber Adaptor.
Prosilica
Burnaby, BC, Canada
www.prosilica.com
CCD camera aids biotech
The 12-bit MultiBlue Biotech CCD camera with plug-and-play USB 2.0 or IEEE 1394b interface has signal quality with 66-dB noise performance and a video rate of 5 frames/s. Its temperature-stabilized design eliminates the need for cooling, reducing system power consumption. Camera features the Eastman Kodak KAI-0340SM imager and provides pixel resolution of 640 × 480 pixels. Modular design allows customization.
PerkinElmer
Fremont, CA, USA
www.perkinelmer.com
Camera tests displays
ProMetric 1000 color camera is a CCD-based imaging colorimeter that delivers 10-bit (1024 gray-scale) dynamic range measurements of luminance, illuminance, and chromaticity. It consists of a progressive-scan electronically shuttered camera based on a 1392 × 1040 RGB CCD. Both fixed-focal-length camera lens and microscope objective optics are available. The camera has no moving parts and is rugged and portable.
Radiant Imaging
Duvall, WA, USA
www.radiantimaging.com
DAQ system ups performance
SMT381 digital-to-analog data-acquisition (DAQ) system converts memory-provided digital inputs at 1 Gsample/s. Alternatively the data can be provided by two external digital inputs and converted at 840 Msamples/s. The single-width expansion module SMT381 is a daughter board that plugs into the SMT338-VP base module that provides digital input via an LVDS bus. A Xilinx Virtex-II Pro FPGA handles data transfers to communication channels such as ComPorts or Sundance High-speed Bus.
Sundance DSP
Reno, NV, USA
www.sundance.com
High-speed digital-imaging solution
MotionXtra HG-TH imaging system has small tethered camera heads that fit into hard-to-reach locations for capturing high-speed events in R&D environments. The system can have one to four camera heads and 2 to 8 Gbytes of memory for up to 12.2 s. Each head features 752 × 564 maximum resolution at 1000 frames/s.
Redlake
San Diego, CA, USA
www.redlake.com
Camera runs in visible and IR
Visible-InGaAs SU320Mvis 1.7RT MiniCamera weighs less than 11 oz without the lens. It features a 320 × 240-pixel array with 40-μm pitch. The all-solid-state sensor requires no cooling and has no moving parts. It simultaneously delivers 12-bit digital RS-422 output and EIA-170 analog video output for display on TV monitors. Quantum efficiency is greater than 70% from 1000 to 1600 nm, greater than 50% at 800 nm, and greater than 10% at 400 nm.
Sensors Unlimited
Princeton, NJ, USA
www.sensorsinc.com
Camera has wide FOV
TM-2016-15 is a 2.1-Mpixel camera with 1-in. progressive-scan CCD. It features an LUT available in two versions: Camera Link and LVDS (RS-644). Both versions include 8-bit digital or optional 10-bit linear output arranged in a 2k × 1k 16:9 aspect ratio. Full asynchronous reset with electronic shutter up to 1/10,000 s or pulsewidth exposure control are offered.
JAI Pulnix
Sunnyvale, CA, USA
www.jaipulnix.com
Vision processor stands alone
FVP500 stand-alone processing unit is equipped with two IEEE-1394 interfaces and standard communication ports for integration with remote devices. Unit can be secured in an industrial housing with an LCD display and foil keyboard, as well as 24-V digital I/O modules and necessary power supplies. It supports up to 1280 × 1024-pixel resolution at 24-bit color and weighs 950 g at 15 × 146 × 46 mm.
FDS Research
Ljubljana, Slovenia
www.fdsresearch.si
Linescan camera offers color
Color linescan camera, the L304kc, offers high resolution with a high line rate and good image quality in a compact, lightweight housing. Specs include 3 × 4080-pixel resolution, up to 7.2-kHz line rate, and selectable 8- or 10-bit output. In addition, the camera features electronic exposure time control, integrated spatial correction, test images, and an area-of-interest scanning capability. There is a Camera Link interface and Windows setup tool.
Basler Vision Components
Ahrensburg, Germany
www.basler-vc.com
Vision comes from system-on-chip
Complete vision system on a chip has 320 × 256-pixel resolution, 8-µm-pitch square pixels, an array size of 2.560 × 2.048 mm2, and random read operation. Other features include integrated video amplifier and analog-to-digital converter with 10-bit resolution; sensitivity adjustment circuit for operation under different illumination conditions; and an acquisition rate of 15 Mpixels/s, corresponding to frame rates of up to 180 frame/s. Typical sensitivity is 2 lux with f = 1.2. Interface to a PC and software drivers are available.
NeuriCam
Trento, Italy
www.neuricam.com
Camera is rugged
IMPACT T25 Intelligent Camera is a vision system within a rugged 137 × 63 × 45-mm module. The 0.37-kg device is sealed and has no moving parts. Features include a high-speed microprocessor, solid-state memory, optically isolated I/O, and real-time operating system. A comprehensive visual programming toolkit, Inspection Builder, containing image-processing tools that deliver custom application programs, is included.
PPT Vision
Minneapolis, MN, USA
www.pptvision.com
Software supports multiple images
Release 3.0 of ActivVisionTools is based on the Halcon library and supports multiple images from frame grabbers and directly connected cameras. ActivVisionTools can be integrated into production process by directly supporting digital I/O boards and incorporating more than 25 interfaces to image-acquisition devices. The tools are a set of ActiveX controls with programmable interface. ActivVisionTools open software architecture is extensible and scalable.
MVTec Software
Munich, Germany
www.mvtec.com
Linescan camera covers temperature range
Legend LS, which incorporates a Texas Instruments digital-signal processor, has a 2K linear sensor yielding images up to 18,000 lines per second. The 112 × 60 × 34-mm camera provides 128-Mbit/16-Mbit flash memory. Operating temperature ranges from 0°C to 45°C. CS mount is standard, and C mount is available with an optional adapter. The camera comes with free training, free software, and free support.
DVT
Duluth, GA, USA
www.dvtsensors.com
IR camera has multiple features
IR FlexCam Pro features an extended temperature-measurement range up to 600°C for higher-temperature applications, as well as programmable image capture to allow a user to preprogram the camera to take scans at timed intervals or by the target temperature, reaching a preset high-or-low trigger temperature. An image-enhancement package and improved thermal sensitivity (<0.090°C) for greater image clarity and temperature detection are included. Camera includes sunlight-readable 5-in. color LCD display.
Infrared Solutions
Minneapolis, MN, USA
www.infraredsolutions.com
Color camera sees with depth
HVDUO-5M is a digital color camera from HanVision that uses the Foveon X3 5M direct color-image sensor and features 24-bit output, real-time color processing, support for all sensor scan modes, and a Camera Link interface. Sensor is 1420 × 1064 × 3 matrix of 5-μm square pixels and capable of supporting from 7 frames/s to a single line at 9.25 kHz. Camera package is 58 × 58 × 51.4 mm, takes a C-mount lens, and includes a 20-mm-diameter, 1-mm-thick IR cut filter behind the lens. HVDUO-5M has two shutter modes: still shot or rolling shutter.
Pacer Components
Reading, UK
www.pacer.co.uk