AIA Business Conference foresees business turnaround
The Automated Imaging Association, the North American trade group of more than 230 machine-vision member companies, held its tenth Annual Business Conference in Las Vegas, NV, last month.
Apr 1st, 2002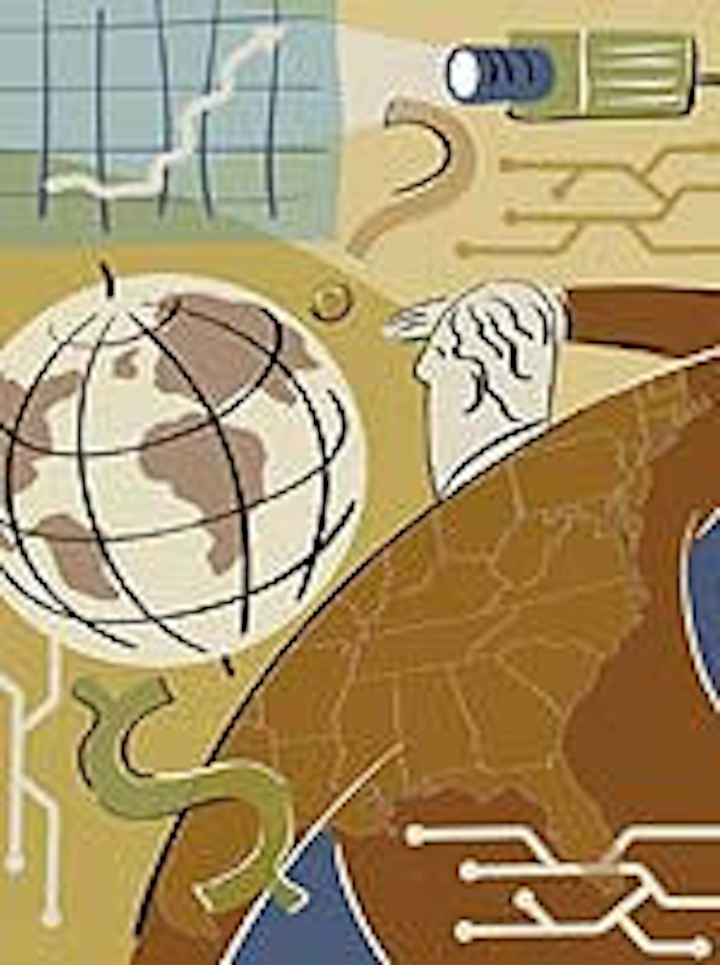 George Kotelly
Editor in Chief
georgek@pennwell.com
The Automated Imaging Association (AIA; Ann Arbor, MI; www.machinevisiononline.org), the North American trade group of more than 230 machine-vision member companies, held its tenth Annual Business Conference in Las Vegas, NV, last month. Attendees numbered nearly 130, and the event attracted international visitors from Canada, Denmark, England, Finland, France, Germany, Italy, Israel, and Japan. They represented companies that spanned all aspects of machine-vision and image-processing technologies, products, applications, and research. As usual, this event continued to provide networking opportunities for industry executives, technologists, and professionals and offered them new business insights, contacts, and relationships on both national and international levels. The major business stance of the conference was that the high-technology marketplace would begin to increase during the third quarter of this year.
Declaring that the recent business recession was not a consumer recession, Don Reynolds, founder and principal of 21st Century Forecasting (Dallas, TX; www.donreynolds.com), listed a dozen reasons for market optimism in his presentation "The Outlook for the US Economy," but also tempered them with some possible problems. He claimed that the overall economy was stronger than most people thought and would get stronger before the end of this year. According to Reynolds, low interest rates, high technology (which he paraphrased as being in the fourth inning of a nine-inning game), globalization, and customer attention were the key market driving forces. In sum, he predicted that all market conditions were in place for a 1.5% high-technology growth period beginning late this summer, but that the recovery process would be slower than previous economic upturns. Among the problem areas, he included terrorism, consumer and corporate debts, telecommunication sector weakness, and OPEC policies, among others.
Also forecasting a third-quarter high-technology economic upturn was Moshe Handelsman, president of Advanced Forecasting Inc. (Cupertino, CA; www.adv-forecast.com). Based on total semiconductor equipment bookings, Handelsman stated in his paper Forecasting Turning points of the Silicon Cycle that August 2000 was the last month of the 1999-2000 market upswing and that the 2001 recession (-46%) was deeper than the 1985 recession (-31%). However, forecasting the recent recession was flawed, said Handelsman, because many companies used optimistic allocations, extrapolation, and overbooking techniques without considering economic "turning points."
Instead, says Handelsman, quantitative or "hard-number" techniques are required to predict market changes. His quantitative market model includes the detailed analyses of economic factors, end equipments and users, distribution channels, integrated-circuit (IC) and peripheral vendors, and semiconductor equipments and materials. As a result, Handelsman declared that October 2001 was the last month of the recent recession and that November 2001 was the first market turning point. He foresees that there will be about a 19-month slow recovery period, but that the market will not rise in a symmetrical curve over time. At mid-2003, says Handelsman, the underlying demand for ICs is expected to decline substantially and weaken the economic recovery.
During the conference, the 2002 Automated Imaging Achievement Award was presented to Amir Novini, president and chief executive officer of Applied Vision Corp. (Akron, OH; www.amc.com). The award honors an industry leader for outstanding contributions in promoting market acceptance of industrial or scientific imaging. With more than 20 years of experience in the machine-vision industry, Novini has helped to develop three generations of machine-vision systems for applications in the automotive, defense, and food and beverage container industries. Since 1988, he has served on the AIA board of directors and was twice president of the board.
Joseph J. Atick, cofounder and chief executive officer of Visionics (Jersey City, NJ; www.visionics.com), a supplier of face-recognition technology and networked platforms, discussed advances in machine vision for face recognition. He described uncooperative applications, such as checkpoint surveillance and suspected terrorists, and cooperative applications, such as privileged access, trusted employees, and prescreened travelers, among others. Atick was enthusiastic about the new business opportunities in the field of biometrics, which he says is central to solving security problems. This field is anticipated to present clear, present, and growing demands in human identification across a range of industrial, medical, scientific, and military applications. He envisions next-generation, low-cost, high-resolution CMOS image sensors providing 3200 X 2360-pixel resolution, scanning devices running at 1000 dpi, and area-array sensors dominating over linear sensors, among others.
The highlight of the conference is the annual AIA Machine-Vision Market in North America Market Survey and Forecast. As he has done for the past nine years, Nello Zuech, president of Vision Systems International (Yardley, PA; e-mail: vsii@aol.com), compiled and presented excerpts of the soon-to-be-published study. He said that more than 52% of respondents replied that "overall business conditions for the machine-vision industry during 2001" were "fair to good" and that "sales between 2000 and 2001 stayed the same or increased."
The North American 2001 machine-vision market revenues for OEM merchants were $1.47 billion, a decrease of 6.8% over 2000 totals, and garnered a 30.4% market share of the world market. Including the revenues of value-added sales increased the total market revenues to $1.75 billion, a drop of 17.1%. The number of North American machine-vision units sold in 2001 was 41,685, a decline of 17.5% over the previous year, but grabbed a 30.9% share of the world totals. The average OEM machine-vision system price totaled $35,169, an increase of 13% over 2000 prices. When the system includes value-added components, the average price rises to $41,974, a tick up from $41,797 in 2000.
The leading applications by sales in 2001 were inspection, location analysis, and pattern recognition. The leading markets for 2001 were semiconductors and electronics, which together accounted for 55.6% of revenues (down from 64.4% in 2000) and 38.3% of units shipped (down from 56.1% in 2000). The top ten machine-vision markets, which accounted for 86.4% of sales (down from 92.7% in 2000) covered semiconductor, electronics, container, food, wood, transportation, fabricated metal, plastic, printing, and pharmaceuticals.
In a breakdown of major product categories, Zuech offered the following overall market observations for vision processors: revenues declined 10.2% to $245 million; units shipped also plunged 31.2% to 33,917. Semiconductor and electronics industries accounted for 23% of revenues (down from 58.3% in 2000) and 39% of units shipped (down from 65.4% in 2000).
As for frame grabbers, market revenues totaled $45.2 million and units shipped were 30,258, which extrapolates to about 10,252 machine-vision systems. Combining the vision processor and frame-grabber markets reveals that 2001 market revenues decreased by 7.6%, and units shipped dropped 21.8% from 2000 figures.
Zuech projected that the North American machine-vision merchant and value-added markets would reach $2.3 billion and $2.76 billion, respectively, in 2006. Units shipped are estimated to jump from 46,562 in 2002 to 72,816 in 2006.
On the international front for 2001, Zuech said that the European merchant machine-vision market revenues increased slightly to $1.2 billion, the value-added market was at $1.34 billion, a drop of 11.1%, and the merchant units shipped were 35,981, up from last year's 32,800 total. Europe's market share of the world market revenues was 23.2% and 26.7% of units shipped.
For the Japanese market, the study figured the merchant machine-vision market revenues at $1.52 billion, the value-added market revenues at $1.82 billion, and the units shipped at 35,617, a sharp decline from 2000's 48,705. Japan's market share of the world market revenues was 31.7%, and units shipped were 33.0%.
By adding in the "rest of world" statistics, Zuech appraised the worldwide 2001 machine-vision market revenues at $5.757 billion and units shipped at 134,8451. As for economic trends, 59.6% of those interviewed for the study said that the business climate for the machine-vision market will improve.
Presenting "The Impact of the New Camera Link Standard" was Steve Kinney, product marketing manager at Pulnix America Inc. (Sunnyvale, CA; www.pulnix.com). He described Camera Link as a communications interface for machine-vision applications. Because camera and frame-grabber manufacturers have developed products with different connectors, cable production became difficult for vendors and confusing to users. A connectivity standard, therefore, was mandatory to couple digital cameras and frame grabbers and ensure compatibility.
More than 30 member companies are contributing to the development and definition of the Camera Link standard. They are specifying low-cost uniform cables, smaller cables, and real-time signaling. Other key features include four general-purpose control lines, a bandwidth of 3.6 Gbits/s, and operational independence from resolution, video format, and frame rate.
The May 2002 Vision Systems Design will contain a special Camera Link Supplement consisting of company-contributed overviews and technical articles. It will describe, explain, and evaluate the Camera Link standard.
---
Management moves
Elmo Manufacturing Corp. (Plainview, NY; www.elmousa.com) has promoted executive vice president Vincent J. Giovinco to president.
Cognex Corp. (Natick, MA; www. cognex.com) announced that the US Court of Appeals for the Federal Circuit ruled in its favor in an appeal related to its lawsuit against the Lemelson Medical, Education, & Research Foundation. The ruling gives Cognex the right to raise the doctrine of patent prosecution laches, which bars a patentee from enforcing a patent claim when there is an unreasonable delay in seeking the claim from the Patent Office, as one of its defenses to the Lemelson Partnership's infringement claims. If Cognex is successful when its lawsuit goes to trial in August 2002, the court could hold that the majority of the Lemelson patent claims, in many cases more than 30 years after the original 1954 and 1956 applications, are unenforceable.
AuthenTec Inc. (Melbourne, FL; www.authentec.com) has promoted sales-manager Dave Esto to vice president of business development and Jim Martin to director of European sales and has hired Bill Dennehy, former CP Clare vice president of sales and corporate marketing, as vice president of worldwide sales.
3D Systems Corp. (Valencia, CA; www.3dsystems.com) has promoted senior vice president of worldwide marketing and sales Grant R. Flaharty to executive vice president of global business operations and CFO E. James Selzer to senior vice president.
Intel Corp. (Santa Clara, CA; www. intel.com) has promoted Paul S. Otellini, former executive vice president and general manager of the Intel Architecture group, to president and COO.
---
Market vision
Dataquest Inc., a unit of Gartner Inc. (Stamford, CT; www.gartner.com), reports that in 2001 the worldwide semiconductor capital-spending-and-equipment market revenues decreased 29% and 37%, respectively. Worldwide semiconductor capital spending reached $44.4 billion in 2001, a 28.9% decline from 2000 totals. Semiconductor-equipment spending dropped 36.8% from $39.9 billion in 2000 to $25.2 billion in 2001. Dataquest also claims that worldwide shipments of personal computers declined by 4.6% in 2001, and US shipments dropped 11.1% in 2001 compared to year-2000 figures.