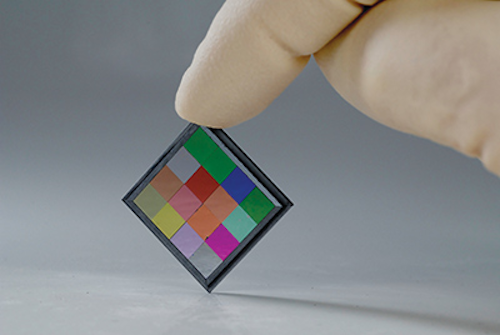 Product differentiation is key, especially in markets where a number of products that exhibit similar performance characteristics are available from a large number of vendors. This is especially true in today's industrial camera market where only a handful of vendors manufacture CCD and CMOS imagers, making it difficult for camera vendors to differentiate their products based on sensor performance alone.
While most of the imagers available today use the Bayer mosaic to allow color images to be captured, some sensor and camera manufacturers now offer custom filters that can be added to sensors and cameras to target specific application areas.
By offering a range of off-the-shelf multispectral filters in butcher block or checkerboard formats, Materion hopes to reduce the cost of multispectral imaging systems.
At last year's VISION show in Stuttgart, for example, IMEC (Leuven, Belgium; www.imec.be) showed how three configurations of its multispectral filters could be used with a 2048 x 1088 CMV 2000 shutter CMOS image sensor from CMOSIS (Antwerp, Belgium; www.cmosis.com) to develop a hyperspectral imager. Already, Ximea (Muenster, Germany; www.ximea.com), Adimec (Eindhoven, The Netherlands; www.adimec.com) and Tattile (Brescia, Italy; www.tattile.com) offer cameras based on these imagers (see "CMOS cameras employ hyperspectral sensors," Vision Systems Design, January 2015; http://bit.ly/1JkH06C).
Adimec has also announced that the company will also participate in two European research programs, one of which, the EXtended Imaging Sensor Technologies (EXIST) consortium is tasked with producing multispectral imagers by hybridizing multispectral filter arrays with CMOS sensors (see "Two consortiums tasked with developing next generation CMOS image sensors," Vision Systems Design, May 2015; http://bit.ly/1B1c70b).
One of the benefits of using such multispectral filters is that they can be used to reduce the size, weight and power of aircraft and space-based imaging systems. Traditionally, such multispectral imaging systems have employed filter wheels equipped multiple filters to perform this tasks.
In the design of the Optical, Spectroscopic, and Infrared Remote Imaging System (OSIRIS) imaging system on board the Rosetta spacecraft, for example, both a high-resolution narrow-angle camera (NAC) and a wide-angle camera (WAC) were employed. Rotating filter wheels equipped with optical filters from Spectrogon AB (Täby, Sweden; www.spectrogon.com) were then used to capture images in the ultraviolet, visible and infrared spectrums.
While such traditional approaches have been used in such applications, employing multispectral filters with CCD or CMOS Imagers will certainly be used in more commercial systems. To build such filters, however, imaging developers will require the expertise of such companies as Materion (Westford, MA, USA; www.materion.com). At this year's Defense and Security Symposium in Baltimore, Maryland held in May this year, the company unveiled its plans for its line of ArrayTec multispectral filters.
"In the past," says Kevin Downing, Director of Marketing and Business Development with Materion, "multispectral filters were built to customer-specific requirements in either butcher block or checkerboard formats. These were then shipped to the customer for mounting onto either linear or area array imagers."
For space-based applications, Materion has worked closely with Ball Aerospace (Boulder, CO, USA; www.ballaerospace.com), for example, to develop a custom nine-band multispectral filter for the LANDSAT 8 satellite.
The on-board imager fitted with the filter instrument provides 49ft panchromatic and 98ft multi-spectral spatial resolution along a 115 mile-wide swath, allowing the entire Earth to be imaged every 16 days.
While Materion still offers such custom capability, its customers now have the option to choose commercial off-the-shelf (COTS) filter arrays or semi-customized filter arrays. While the COTS arrays are pre-assembled with sizes up to 2in square and eight 1mm wide imaging bands, developers requiring semi-customized filters can choose from eight filters in the visible and short wave infrared bands. "By offering these options," says Downing, "the cost of developing multi-spectral camera systems using these filters will be reduced."