Smart cameras inspect auto parts
There was one obvious trend at this year's highly successful VISION 2003 trade show, held in Stuttgart, Germany. Developers of automotive-inspection equipment are deploying low-cost smart image sensors with industrial programmable logic controllers (PLCs) and automated drives to offer manufacturers relatively low-cost automated inspection equipment.
Dec 1st, 2003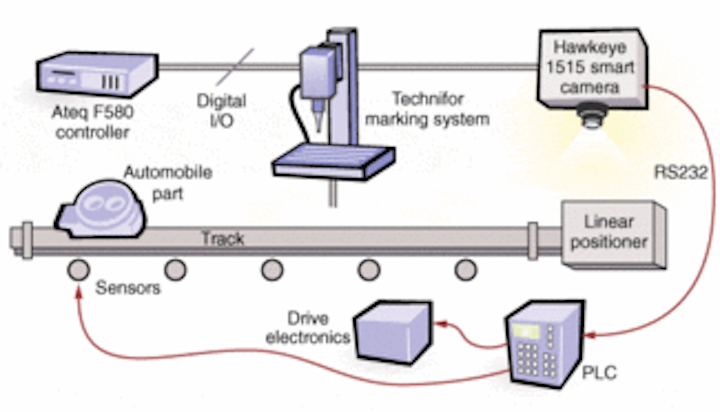 When building intelligent vision-based automotive-inspection equipment, designers are integrating marking equipment, smart cameras, and PLCs.
By Andrew Wilson, Editor
There was one obvious trend at this year's highly successful VISION 2003 trade show, held in Stuttgart, Germany. Developers of automotive-inspection equipment are deploying low-cost smart image sensors with industrial programmable logic controllers (PLCs) and automated drives to offer manufacturers relatively low-cost automated inspection equipment.
Nowhere was this more evident than at the booths of RVSI (Nashua, NH, USA) and Vision Components (Ettlingen, Germany). Both companies had the same idea regarding which of their systems-integrator applications to display at the show. For its part, RVSI invited Muko Maschinenbau (Waiblingen, Germany), a manufacturer of micropercussion direct part-marking machines for quality control, automatic identification, and permanent traceability, to display a combined data matrix/marker and inspection system. At the Vision Components booth, systems-integrator AIT Gohner (Stuttgart, Germany) displayed a similar system that also used a smart camera as the basis for vision inspection of the data-matrix code.
Data marking
In the automotive industry, the identification and tracking of parts as they move from manufacturing to the assembly line is a major requirement. To identify and track parts, many automotive vendors use specialized marking machines from companies such as BKM Systeme (Stuttgart, Germany) and Technifor (Miribel, France) to create a programmed data-matrix pattern on each part. These electrically and pneumatically operated machines create a series of dot indentations with an adjustable impact force. Consequently, a range of characters and signs stored in the machine memory can be marked with the required size and depth.
null
Permanent marking can be carried out on most materials (metal, plastic, wood, and glass) by the repeated action of a sharp carbide stylus. Such systems permit marking on extremely hard, uneven and irregular, flat, or curved work pieces while not subjecting them to high stresses or deformations. In the automotive industry this capability is especially useful, since parts are often irregular and manufactured to tight tolerances.
After such parts are marked, the data-matrix code must be checked for accuracy before the part can proceed to the next stage of the production line. During this process, the part also can be verified at each stage by reading and interpreting the data-matrix code. To do this automatically, both Muko Maschinenbau and AIT Gohner offer part-marking and verification systems based on smart-camera technologies.
Off-the-shelf components
In the design of the systems, each company's product uses off-the-shelf components including PLCs, motion conveyors, marking controllers, and smart cameras. In developing the Muko part-marking and verification system, the company chose a CN312C from Technifor to perform data-matrix marking. To control the type of data matrix applied to the part and the hydraulic pressure of the marker, the system uses an Ateq-F580 marker controller from Ateq (Langenau, Germany), which directly interfaces to the CN312C and to a PLC (see Fig. 1).
After each part is mounted on a pneumatically actuated carriage (also under control of the PLC), the part is moved along the carriage, where a position sensor detects the presence of the part under the marking system. After stopping the part, specific data-matrix code instructions are fed to the Technifor CN312C from the Ateq controller.
The part is marked and moved in a similar fashion under a HawkEye 1515 data-matrix reader from RVSI. Introduced at VISION 2002, the 1515 intelligent reader features a CCD sensor, ARM-based processors, 32 Mbytes of on-board memory, dynamic host configuration protocol (or static IP addressing), and 10/100 Ethernet connections. RVSI enhanced the HawkEye line this year by introducing the 1600 series, which can run a variety of other vision processing tools in addition to data-matrix and barcode reading.
null
What makes the camera especially useful for fixed-position data-matrix reading is its QuicSet audio video alignment feature. Incorporating two crossed lasers behind the fixed lens of the 1515 reader, developers focus the sensor by moving the camera between a near- and far-focus limit. When the sensor is aligned to the focal plane of the object to be viewed, the two lasers overlap into a single spot and an audible alarm is sounded. Thus, no PC or monitor is needed to focus the camera, resulting in a rapid system setup.
Because the camera is preprogrammed to read codes including Code 39, 93, PDF417, and Postnet codes, the 1515 can be interfaced to any PC or PLC-based system for vision-based control. In the Muko part-marking system, the 1515 is directly interfaced to the PLC that controls the pneumatically actuated carriage.
After the automotive part is marked, it is again moved under PLC control and into the field of view of the camera. Here, the code is verified, and the result of a pass/fail decision is passed to the PLC. The PLC can then command the system to either pass the part to the next stage of the assembly process or reject the part, should the marking system have improperly marked the part.
According to Hans Dieter Golderer, managing director of Technifor, the system can be adapted in a number of different configurations, including adding a number of Ethernet-based sensors for part verification and further stages in the production process.
Similar designs
AIT Gohner took a similar approach in the design of its intelligent data-matrix marking and inspection system, implementing a system using off-the shelf PLCs, marking systems, PCs, and smart cameras (see Fig. 2). In its design, the company mounted the part on a pneumatically controlled slide supplied by Festo AG & Co. (Esslingen-Berkheim, Germany).
After the part is mounted on the drive train, a PLC is programmed to move the part under a pin-punched Soritzmarker 921-S marking system from BKM by a 12-in. color LCD flat-panel industrial PC. The part is then marked with data-matrix code.
"Because of the required Reed Solomon error correction built into ECC200 data matrix, it is very dependable and can even be read when part of the symbol has been destroyed," says Michael Gohner, managing director of AIT Gohner. "With data matrix, the worst case chance of a misread is one error in 10.5 million scans. In a Code 39 barcode, the worst case chance of a misread is one error in 1.7 million," he adds.
After the code has been punched into the part, the PC instructs the PLC to move the pneumatic positioning equipment under the barcode reader. This system also uses a VCM50 smart camera from Vision Components to image the code. In the design of the camera, Vision Components chose to couple an ADSP2185 DSP from Analog Devices (Norwood, MA, USA) with 8-Mbytes memory, 2-Mbytes flash EPROM, I/O control lines, and an RS232 interface. Using a monochrome CCD sensor, images can be captured at 25 frames/s in 640 x 480 pixel full frame mode.
This system then commands the PLC to either pass the part to the next stage or reject the part based on the data obtained from reading the code. According to AIT Gohner, the machine is already in use by large automotive suppliers in Germany.
COMPANY INFO
AIT Gohner www.aitgoehner.de
Analog Devices www.analogdevices.com
Ateq www.ateq.de
BKM Systeme GmbH www.bkm-systeme.de
Festo AG & Co www.festo.com
Muko Maschinenbau www.mueko-gmbh.de
RVSI www.rvsi.com
Technifor www.technifor.com
Vision Components www.vision-components.de
Vision Tools www.vision-tools.com
features, advantanges, benefits
AIT Gohner and Muko Maschinenbau both offer different versions of their machines, depending on customer requirements. According to Hans Dieter Golderer, manager director atTechnifor, simple marking machines can range from 10,000 euros to fully integrated marking, verification, and reading machines that may cost approximately 20,000 euros. Both Muko and AIT systems perform similar functions, and they both use smart embedded cameras to perform the tasks of data-matrix-code reading.
By using such relatively low-cost smart cameras, the cost of the machine is reduced by thousands of euros when compared to implementing a conventional camera/PC/software combination. In addition, because all the functions of a camera, image processor, and output device are integrated into a single sensor, the reliability and durability of the end-user system is increased. This is especially important in automobile applications, where harsh factory-floor environments may impact the performance of other types of machine-vision solutions.