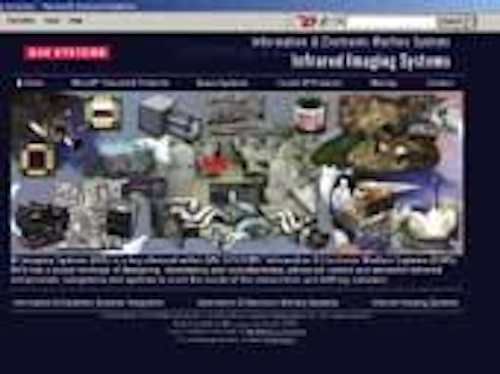 Infrared (IR) radiation resides in the electromagnetic spectrum between the visible and micro-wave bands. It spans from 1 µm to 1 mm, but only a portion of this spectrum is used in thermal imaging applications. Applications for the near-, middle- , and far-IR regions include both mechanical and electronic inspections. This month, we look at sites devoted to IR cameras, software, and systems, and show how they are being deployed in these applications.
A NOVEL INVENTION
www.sarcon.com
Sarcon Microsystems (Knoxville, TN, USA) has developed innovative infrared sensor technology. The microcantilever IR sensor does not use traditional IR fabrication techniques but a novel cantilever-type design. In addition to providing an in-depth description of the technology behind the sensor, there is product information and the latest company news
THERMAL IMAGING
www.cinele.com
On the Web site of CMC Electronics Cincinnati (Mason, OH, USA) are descriptions of the company's infrared imaging modules based on its patented InSb infrared focal-plane-array architecture. This military-slanted site allows you to download product datasheets and review the company's advanced packaging capabilities and technologies. Of special interest is the TVS-8500—a 256 × 256 InSb camera capable of 120 frames/s.
CALORIFIC RAYS
www.microirproducts.com
BAE Systems (Lexington, MA, USA) manufactures infrared imaging sensors, imaging modules, camera cores, and infrared cameras. On this site, you'll find descriptions of the company's products, including the latest SCC500 Series microIR camera core; a micro-bolometer-based, 320 × 240-pixel camera core; embedded MIPS processor; and Wind River Systems' Vx-Works RTOS.
SUCCESS STORIES
www.flirthermography.com
A leading manufacturer of infrared cameras, FLIR Systems (North Billerica, MA, USA), has published a wealth of success stories on its Web site. These include applications in predictive maintenance, research and development, and automation. In addition, there are descriptions of the company's cameras, software, accessories, and training courses.
FROM ULTRAVIOLET TO INFRARED
www.electrophysics.com
Last month, Electrophysics (Fairfield, NJ, USA) introduced the MicronViewer 8320 near-IR imaging system at CLEO in Baltimore, MD. Incorporating a 320 × 256 InGaAs focal-plane array, the camera features snapshot-mode integration, 30-µm pixel pitch, and a USB 2.0 serial output. On the company's Web site, you can review this and other IR.products. In addition, you can access a number of technical primers, FAQs, an image library, and information on laser-based IR.illumination.
MULTIPLE APPLICATIONS
www.raytheoninfrared.com
The Web site of Raytheon Commercial Infrared (Lexington, MA, USA) classifies infrared technology by applications, showing how it can be used in industrial, security, and transportation applications. Here, too, are descriptions of ..the company's cameras, accessories, and core technologies. As well, you can subscribe on-line to an e-mail newsletter to keep you updated on company news, new products, and applications.
Other infrared-imaging Web sites
www.cantronic.com
www.dii-llc.com
www.irimaging.com
www.indigosystems.com
www.infraredcomponents.com
www.infrared-detectors.com
www.infraredsolutions.com
www.judsontechnologies.com
www.landinst.com
www.mikroninst.com
www.mitsubishielectric.ca/imagers
www.rsc.rockwell.com
www.seir.com
www.snellinfrared.com
www.xenics.com
usa.hamamatsu.com/cmp-detectors/infrareddetectors.htm