Wilson's Websites
LOTS OF ARTICLES; TEST AND MEASUREMENT; ALL ABOUT NTSC; MORE...
Feb 1st, 2003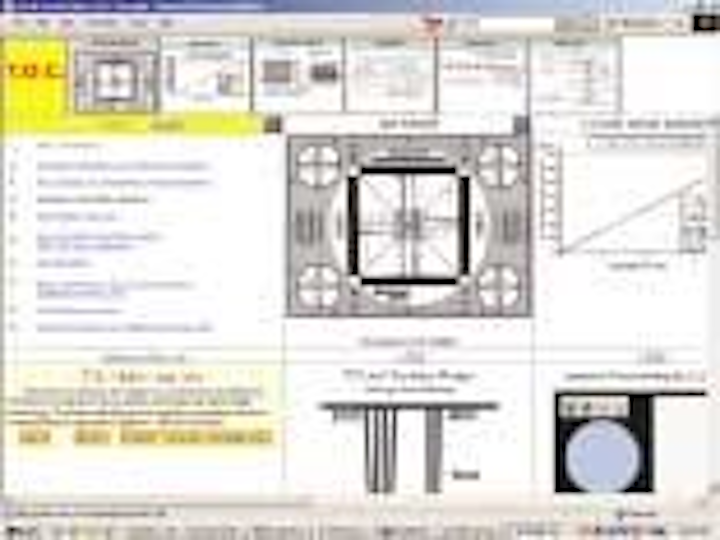 Video test equipment is used by engineers to generate stable video signals with carefully defined characteristics for measuring, analyzing, and displaying the results of image digitization, processing, and display. To examine conventional broadcast signals, engineers generally implement signal and pattern generators, oscilloscopes, and waveform monitors. Now, with increased interest in digital camera and fiberoptic interfaces, test engineers must also be aware of the latest digital storage oscilloscopes and fiberoptic test-and-measurement equipment.
LOTS OF ARTICLES
www.videouniversity.com/article2.htm
Articles on color bars, DVDs, engineering primers, test patterns, and video standards are just part of the information you'll find on the Web site of the Video University. Primarily devoted to resources on video and film production, the Web site also contains a collection of documents on many video topics.
TEST AND MEASUREMENT
www.tek.com/
Application Notes for video testing is just a small section on the video-test-equipment site of Tektronix (Beaverton, OR). By clicking on this link, you'll be presented with a host of technical backgrounders, articles, white papers, technical briefs, test-and-measurement fundamentals, and frequently asked questions (FAQs).
ALL ABOUT NTSC
www.ntsc-tv.com/ntsc-index-04.htm
If you are searching for tutorials on television, video circuits, and basic video and television engineering, you might ..want to check out this site. It also provides articles on the National Television Standards Committee (NTSC), sync recovery, gain and offset, gamma correction, color decoding, and circuits and practices.
BROADCASTING WHITE PAPERS
www.broadcastpapers.com/
Dubbed the broadcast industry's on-line source for business and technical white papers, this easy-to-use Web site arranges its white papers into several categories, including test and measurement, TV transmission, and HDTV. To make searching easier, this site lists all the latest updated papers on the righthand side of its home page, offering one-click access to technical information.
VIDEO ENGINEERING
broadcastengineering.com/
The Broadcast Engineering magazine (Overland Park, KS) Web site is the place to go if you want to examine broadcast-industry news, technical articles, systems-integration stories, new products, and industry trends. You also can access published data, an e-mail newsletter, and related Web sites.
Lots of links
www.epanorama.net/links/videotest.html
Information on video test equipment, including test signals for visual checking and measurement, are included in the numerous links featured on this Web site. General information on video-signal basics, test charts, and test software can be accessed form this site, along with feature articles and tutorials.
Other interesting video Web sites
www.extron.com
www.rsd.de
www.team-systems.com
www.snellwilcox.com
www.horita.com
www.leaderusa.com
www.videotek.com
www.burosch.com
www.leitch.com
www.unigraf.fi
www.gekco.com