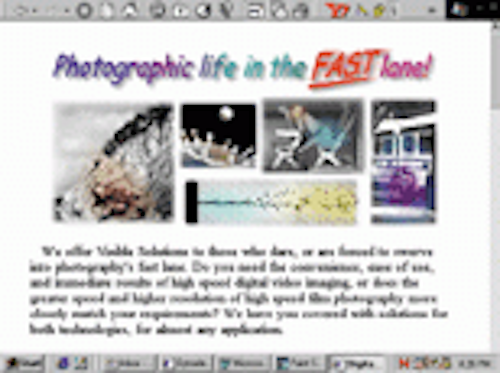 For motion analysis of fast-moving objects, scientists and engineers use high-speed digital cameras. These cameras record the details of objects that are moving too fast for the eye to see or for conventional video cameras to capture. Knowledge gained from motion analysis allows product-design changes to be implemented rapidly. This month we look at vendors of high-speed cameras and their associated motion applications.
Visible solutions
www.visiblesolutions.com
On its Web site, Vision Research (Wayne, NJ) details its two digital products developed for high-speed inspection. The Phantom V3.0 camera system can image 1 to 3000 512 x 512 pictures/s. The Phantom V4 color digital system can image 1000 pictures/s at a resolution of 512 x 512 pixels and 1000-pictures/s full resolution images with allocations to 30,000 pictures/s.
Motion analysis
www.redlake.com/
The product line of Redlake Imaging (Morgan Hill, CA), a developer of high-speed video and digital imaging systems, includes a range of cameras for design, test, research, and production applications. This site presents documentation on the MotionScope range of stand-alone and PC-based systems, as well as company news, trade-show listings, and FAQs.
Imaging solutions
www.masdkodak.com
After recently purchasing the Motion Analysis Systems Division (MASD) from Eastman Kodak Co. (San Diego, CA), Roper Scientific MASD (San Diego, CA) has incorporated coverage of the high-speed product lines of both Roper Scientific and Kodak MegaPlus cameras on this new Web site. From here, you can access camera data sheets, pdf data sheets, typical applications, and application case studies.
Digital CCD sensors
www.cookecorp.com
A winner of a Laser Focus World Commercial Technology Achievement 2000 Award, the HSFC-Pro ultrahigh-speed framing camera from Cooke Corp. (Auburn Hills, MI) can deliver 500 million frames/s. In addition to describing this high-speed imaging system, the site also describes the company's range of multisensor triggering systems and high-luminance flood and spotlights.
Ultrafast events
www.cordin.com
Can you imagine a 0.22-caliber bullet impacting a 0.375-in.-thick plate glass? On the Web site of Cordin Scientific Imaging (Salt Lake City, UT), you don't have to. The company shows an animated sequence of images taken at 167,000 frames/s by one of the company's Model 140 rotating-mirror framing camera. Here, too, you'll find information on the company's range of cameras for astronautics and weapons testing.
Record to disk
www.nacinc.com
If you need to record high-speed or ultrahigh-speed events on tape and digital video systems, check out the Web site of NAC Image Technology (Simi Valley, CA). In addition to supplying information on high-speed image-capture products, this site features technology applications, camera accessories, and data on the company's latest EMR-7 eye-tracking system.