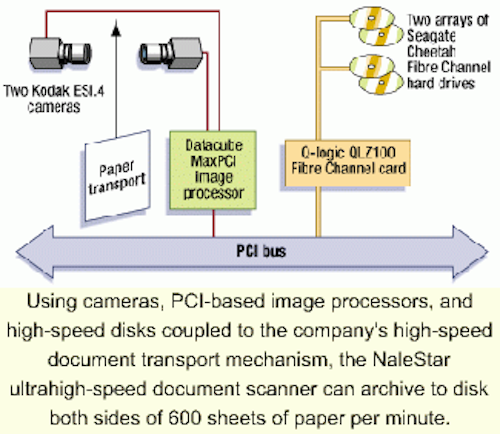 Processing poor-quality documents at high speeds presents complex problems for image-processing-systems integrators. High-speed transport mechanisms must be coupled with high-resolution cameras, high-speed image-processing systems, and high-capacity storage systems. To meet these demands, companies such as Nale (Kennsaw, GA) are coupling their mechanical, electrical, and software engineering expertise with that of OEM imaging companies to build precision document scanners costing approximately $200,000.
Nale's latest product, the NaleStar, is an ultrahigh-speed document scanner capable of archiving up to 600 documents per minute sustained. "To accomplish such throughput," says Erwin Wagner, senior electrical engineer at Nale, "the system interfaces off-the-shelf cameras, image processors, and high-speed drives. To image double-sided documents, two ES 1.4 cameras from Roper Scientific MASD (San Diego, CA) capture the documents as they pass across a custom-built document feeder. Once captured, images are digitized into a PCI-based MaxPCI-board from Datacube (Danvers, MA).
Additional functions such as flexible document and batch indexing, document-security feature verification, and automatic batch separation are also performed by the scanner. The scanned document receives a printed identifier matching the document index for physical cross-referencing of image and document.
"Because the image-transport mechanism in the scanner introduces a certain amount of skew," says Wagner, "image-processing software based on the Datacube ImageFlow package was used to determine the angle of rotation, derotate the image, and crop the image to size for later storage." After this process is completed, images are then transferred at approximately 80 Mbyte/s across the PCI bus of a Pentium-based host PC to a QL2100F Fibre Channel PCI card from Q-Logic (Aliso Viejo, CA). Here, images are multiplexed and stored on two arrays of four Seagate Cheetah Fibre-Channel hard drives.
According to Rex Miller, Nale president and chief executive officer, the system has been successfully deployed by several government agencies in England. The company is currently incorporating intelligent-character-recognition and optical-character-recognition software from Neuroscript (Cambridge, England). The system can automatically transfer data from captured documents to database text files. The image format is then changed and compressed to less than 20 kbytes for final storage.
—ANDREW WILSON