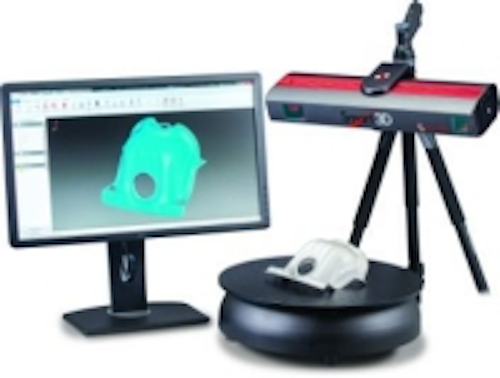 SMART3D from Perceptron is the first in a series of product releases based on Percepton's Helix smart scanning sensor technology, which incorporates MEMS technology and enables users to choose the quantity, density, and orientation of the laser lines on an individual feature level, without moving the sensor. All scanning motion is contained within the HELIX sensor while maintaining a volumetric accuracy down to 50 µm. The fully-programmable SMART3D features a class 3R laser with a 660 nm wavelength and can be used to automatically provide 3D polygon models for reverse engineering or 3D printing. SMART3D can also be used for the verification of production parts against nominal part geometry data. In addition, the system offers a fully-integrated automatic rotary table and SCANWORKS STUDIO software.
To Learn More:

Contact:Perceptron
Headquarters: Plymouth, MI, USA
Product: SMART3D
Key Features: MEMS optical projection system, HELIX 3D sensor, GigE interface, class 3R laser with a 660 nm wavelength.
What Perceptron says:
View more information on the SMART3D.

View More Products| Locate a vendor or system integrator | Receive e-mail updates
Share new products that you think are particularly interesting or helpful by contacting James Carroll, Senior Web Editor, Vision Systems Design.
Join our LinkedIn group | Like us on Facebook | Follow us on Twitter | Connect on Google +