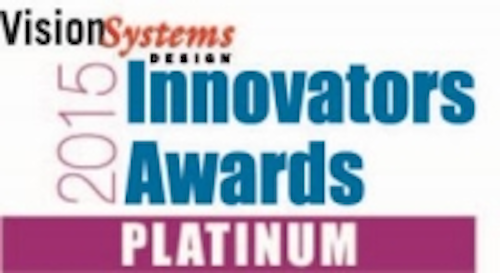 Platinum levelaward winners of our 2015 Innovators Awards Program are as follows:
Tag Optics – TAG Lens 2.5. TAG Lens 2.5 varifocal lens is a type of gradient index of refraction lens that uses standing sound waves to produce a constantly changing gradient index of refraction within a liquid contained in the lens. When used in applications where speed is critical, it can create multi-focal images by combining information from user-defined spatial locations such that one frame is all that is necessary to capture 3D data. Alternatively, it can be synchronized with a camera to generate frame-by-frame focusing as fast as the camera will allow.
Vieworks– VN-25MX pixel shifting camera. The VN-25 MX is a pixel-shifting area scan CoaXPress camera that can achieve 100 MPixel resolution by using a 2D nano-stage piezoelectric actuator. The camera captures multiple images by using the piezoelectric stage to micro-shift the image sensor in x and y directions and then combines those images to generate a 100Mpixel output image. Images at this resolution can be acquired at 18 fps.
ViDi Systems– ViDi software suite. ViDi Suite is bio-inspired industrial vision software for automated inspection and classification. The software provides human-like visual inspection abilities combined with the consistency of automated visual inspection systems through a set of machine learning algorithms to separate different classes based on a collection of labeled images.
On behalf of the entire Vision Systems Design team, thank you to all of the companies who submitted to our first annual Innovators Awards program, and congratulations to all of our honorees. We hope that this award program helped bring some of the most innovative products technologies in the market into focus, and we hope it will continue to do so moving forward.
Share your vision-related news by contactingJames Carroll, Senior Web Editor, Vision Systems Design
To receive news like this in your inbox,click here.
Join ourLinkedIn group | Like us on Facebook | Follow us on Twitter| Check us out on Google +
Page 1 | Page 2 | Page 3 | Page 4 | Page 5