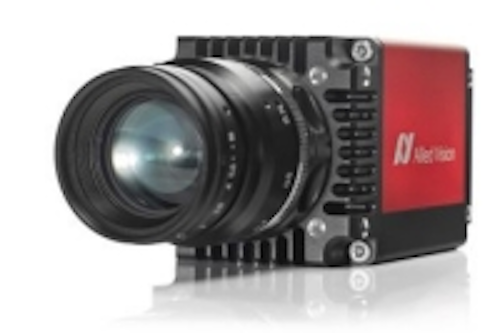 First introduced at Laser World of Photonics 2015 in Munich, the Goldeye G-008camera from Allied Vision is now officially available. The camera features a 320 x 256 InGaAs sensor with a 30 µm pixel size and is sensitive in the short wave infrared spectrum ranging from 900 to 1,700 nm at up to 344 fps. The new infrared camera also features a GigE Vision interface, a compact form factor (55 mm x 55 mm x 78 mm), as well as Allied Vision's Vimba software development kit, which enables users to program their own applications across Windows and Linux platforms. In addition, the camera features all image correction and optimization functionalities of the Goldeye family such as advanced image correction algorithms and fan-less sensor cooling using a thermoelectric module (TEC 1) for low-noise images.

To Learn More:
Contact:Allied Vision
Headquarters: Stadtroda, Germany
Product: Goldeye G-008
Key Features: 320 x 256 InGaAs sensor with a 30 µm pixel size, sensitive in the SWIR spectrum ranging from 900 to 1,700 nm, up to 344 fps, GigE Vision interface.

What Allied Vision says:
View more information on the G-008 infrared camera.

View More Products| Locate a vendor or system integrator | Receive e-mail updates
Share new products that you think are particularly interesting or helpful by contactingJames Carroll, Senior Web Editor, Vision Systems Design.
Join ourLinkedIn group | Like us on Facebook | Follow us on Twitter| Check us out on Google +