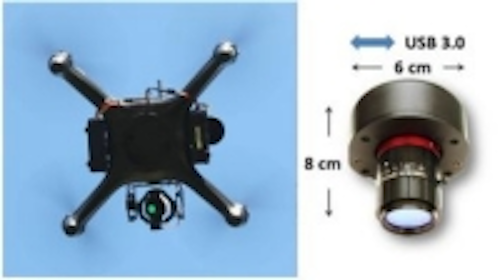 On display at the BaySpec booth at LASER World of Photonics will be the company's OCI-U hyperspectral cameras, the OCI-U-1000 and OCI-U-2000. These USB 3.0 cameras are based on NIR-optimized hyperspectral imaging sensors that can achieve frame rates of up to 120 fps. Available in both push-broom and snapshot models, the cameras feature a wavelength range of 600-1000nm. Both cameras run on Windows 7, 8, or Linux systems and feature external triggering capabilities. The OCI OEM cameras are suitable for use in UAVs, agriculture, remote sensing, forensics, and airborne applications.
LASER World of Photonics booth number: Hall B2 Booth 203
To Learn More:
Contact:BaySpec
Headquarters: San Jose, CA, USA
Product: OCI hyperspectral cameras
Key features: NIR optimized hyperspectral sensor, USB 3.0 interface, acquires full, VIS-NIR hyperspectral/multispectral data, 120 fps frame rates, wavelength range of 600 to 1000 nm.
What BaySpec says:
View more information on the OCI hyperspectral imagers.

View More Products| Locate a vendor or system integrator | Receive e-mail updates
Share new products that you think are particularly interesting or helpful by contacting James Carroll, Senior Web Editor, Vision Systems Design.
Join our LinkedIn group | Like us on Facebook | Follow us on Twitter | Connect on Google +