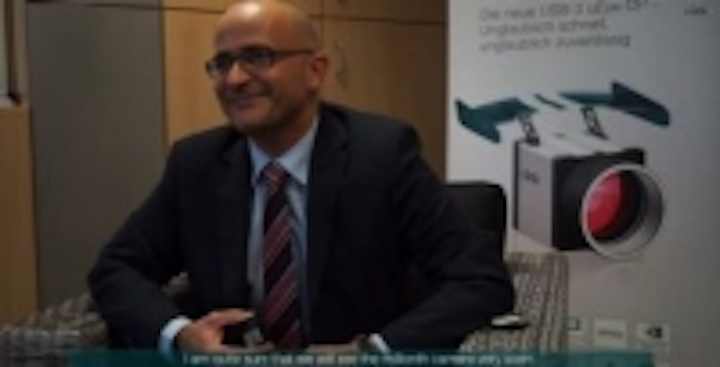 More than 10 years ago, during VISION 2003, IDS Imaging Development Systems first introduced its uEye machine vision camera to the industry. Flash forward to today, and the company is now delivering its 500,000th camera.
Prototypes of the uEye camera were introduced at VISION 2003. These models were based on USB 2.0, and we were sneered at by some, but soon thereafter, we received many requests via fax, according to Torsten Wiesinger, CEO of IDS (pictured). Since then, the company has tried to live up to its "It's so easy!" philosophy, and provide the best possible user experience.
"I am very proud of the entire IDS team, which has made this outstanding success possible," he said. "We would also like to thank our customers for their confidence in IDS and our products. I'm already looking forward to delivering our one millionth uEye camera in the years to come."
At the most recent VISION show in 2014, IDS Imaging Development Systems showcased two of its newly-launched uEye cameras, the USB 3 uEye CP Rev. 2, and the USB uEye XC. The USB 3 uEye CP Rev. 2 features a 2.3 MPixel Sony IMX174 CMOS image sensor and will achieve frame rates up to 161 fps, while the USB 3 uEye XC autofocus camera features a 13 MPixel Sony CMOS image sensor and will achieve frame rates up to 30 fps.

Looking toward the future, Wiesinger noted that he is "quite sure we will see the millionth camera very soon!"
Share your vision-related news by contacting James Carroll, Senior Web Editor, Vision Systems Design
To receive news like this in your inbox, click here.
Join our LinkedIn group | Like us on Facebook | Follow us on Twitter | Check us out on Google +