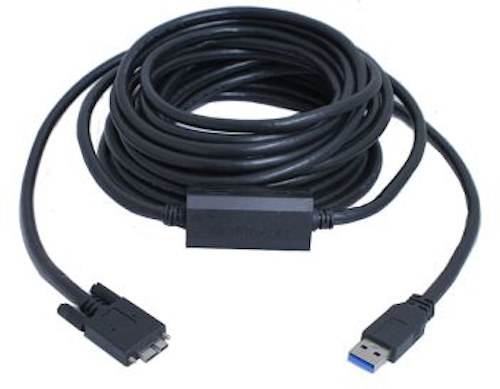 Adding to its line of FireNEX-uLINK cable series, Newnex has announced the addition of the 16m FireNEX-uLINK-16M cable and the 8 mHigh Flex FireNEX-H3M-08M (pictured) USB 3.0 active repeater cables. The high-flex FireNEX-H3M-08M cable is capable of sustaining millions of bending cycles, making it suitable for use in applications that require continuous movement, such as robotics. Both the FireNEX-uLINK-16M and FireNEX-H3M-08M are suitable for use in machine vision, as they have been tested with industrial cameras from such companies as Basler, Baumer, Hamamatsu, IDS, Lumenera, Matrix Vision, Pleora, Point Grey, The Imaging Source, and Ximea. Both bus-powered cables can extend full-speed USB 3.0 at 5 gbps at 8 m and 16 m, respectively, while also featuring USB3 Vision-compliant locking screws and backwards compatibility with USB 2.0.
To Learn More:

Contact:Newnex
Headquarters: Santa Clara, CA, USA
Product: FireNEX-uLINK-8M and FireNEX-uLINK-16M repeater cables
Key Features: 8/16 meter repeater cables, full-speed USB 3.0 at 5.0 gbps, bus-powered, USB 2.0 compatibility, USB3 Vision compliant locking screws.
What Newnex says:
View more information on the FireNEX-uLINK-8M.
View more information on the FireNEX-uLINK-16M.

View More Products| Locate a vendor or system integrator | Receive e-mail updates
Share new products that you think are particularly interesting or helpful by contacting James Carroll, Senior Web Editor, Vision Systems Design.
Join our LinkedIn group | Like us on Facebook | Follow us on Twitter | Connect on Google +