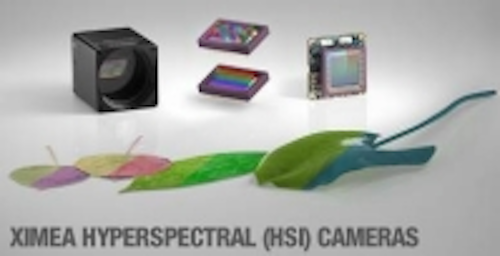 On display at the XIMEA booth at Photonics West in San Francisco from February 16-18 will be a number of the company's industrial cameras. Products will include the xiSpec line of hyperspectral cameras, which feature CMOS image sensors with hyperspectral filters added at wafer-level on top of the pixel structure of the sensor. These cameras are available in line scan or snapshot mosaic, and feature a USB 3.0 interface.
Additionally, XIMEA will showcase its first Thunderbolt-enabled (and certified) industrial cameras, the MT200 model, which is available in both color and monochrome and features the 20 MPixel CMV20000 CMOS image sensor from CMOSIS, which features a 6.4 µm pixel size. Frame rates of up to 32 fps and 12 bits per pixel can be achieved with Thunderbolt 2 bandwidth of 20Gbit/s and without the need of any frame grabbers. Also on display will be PCI Express cameras, USB 3.0 cameras, and new scientific cameras.
Photonics West booth number: 4138
To Learn More:
Contact: XIMEA
Headquarters: Münster, Germany
Products featured: XiSpec hyperspectral cameras, XiT Thunderbolt cameras, XiQ cameras, XiB PCI Express cameras.
What XIMEA says:
View more information on the hyperspectral cameras.
View more information on the Thunderbolt cameras.

View More Products| Locate a vendor or system integrator | Receive e-mail updates
Share new products that you think are particularly interesting or helpful by contacting James Carroll, Senior Web Editor, Vision Systems Design.
Join our LinkedIn group | Like us on Facebook | Follow us on Twitter