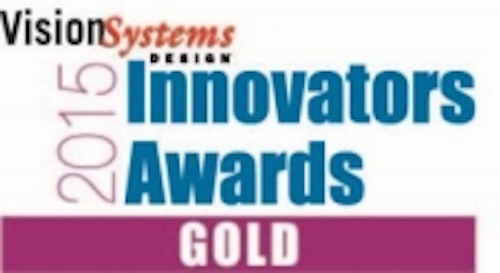 Gold-level award winners of our 2016 Innovators Awards Program are as follows:
CCS America - Pattern Blazer structured light projector. The CCD Pattern Blazer is an LED fixed-pattern projector for structured lighting in 3D machine vision. It uses an LED source and Four Thirds DSLR optics and can be equipped with any LED wavelength from the UVA to the NIR.
Chiaro Technologies - Cloudburst 3D camera. The Cloudburst 3D depth camera is based on Symbolic Light, a technology for single-shot structured light 3D capture. The camera provides motion capable, calibrated 3D data with a simple machine vision interface and camera-like API.
e2v - Embedded active imaging feature in Onyx sensors and cameras. e2v's Onyx 1.3MPixel CMOS image sensor features an embedded imaging system synchronizing external illumination and internal electronic shuttering. This allows discernible color images to be produced at low light levels and through diffusing environments (e.g. fog and smoke).
Keyence Corporation of America - Auto-Teach Inspection Tool. Keyence's Auto-Teach Inspection Tool algorithm teaches a sample of known good parts and uses statistics to automatically set the ideal tolerances for rejecting bad parts, even parts with defects unexpected at the time of setup.
LMI Technologies - Gocator 3109 Smart Snapshot Sensor. The Gocator 3109 is an industrial, smart fringe projection sensor providing full-field 3D acquisition and inspection for factory automation applications. The sensor features a footprint of 4 x 100 x 155mm and achieves a scan rate of 5 Hz.
Opto Engineering - CORE series. CORE series are telecentric lenses and illuminators. They are up to 70% smaller in height than other solutions due to their design, which is patent-pending internationally. They operate in extremely reduced space, allowing users to build compact measurement machines with lower expenses for production, transportation, and storage.
Optotune - Electrically focus tunable lens EL-16-40-TC. The EL-16-40-TC features a 16mm clear aperture and is based on an elastic polymer membrane which conceals an optical fluid. A voice coil actuator pushes or pulls the membrane to pump liquid into the center to deflect the lens to be convex or concave.
Princeton Infrared Technologies - 1280SCICAM. The 1280SCICAM camera features a 1280 x 1024 lattice-matched InGaAs IR detector with a 12µm pixel pitch that can achieve frame rates of 95 fps full-frame. The camera operates in the 0.4-1.7 µm range and features a 3-stage thermoelectric cooler.
Teledyne DALSA – TurboDrive. TurboDrive data encoding technology lets GigE Vision cameras overcome current bandwidth limitations – increasing throughput by as much as 150%, retaining 100% of image data.
Texas Instruments - 3D scanner for factory automation using DLP technology. TI's factory automation reference design using the company's DLP SK allows developers to construct 3D point clouds by integrating the DLP6500 with cameras, sensors and other peripherals. With more than 2 million micro-mirrors, the design uses the DLP Light Crafter 6500 evaluation module, featuring the DLP6500 1080p DMD, and enables control of accurate patterns for structured light solutions in industrial applications.
Gardasoft Vision - Triniti CL - Camera, Light, Lens Control. With the addition of Lens Controllers to the Gardasoft triniti intelligent lighting platform, developers can configure, program and monitor cameras, lighting and lenses - all from within one common environment.
Mettler Toledo - CI-Vision - V2410 Mosaic-Paneled. The V2410 Mosaic-Paneled is a turnkey system for print and label inspections on round, un-oriented products with a slim profile. Instead of a stitching algorithm, the system places six cameras equidistantly around the product, which are then used to find the best possible image of the item being inspected. Each camera's FOV overlaps with the FOV of the two cameras next to it in the array, eliminating the danger of warped or distorted inspection elements.
ON Semiconductor - KAE-02150 Image Sensor. The KAE-02150 image sensor is a 2.1MPixel interline transfer EMCCD sensor that enables continuous capture from low light (0.01 lux) through bright daylight. Incorporating both Interline Transfer and EMCCD technologies, the underlying architecture of the device allows a single camera to operate "from sunlight to starlight".
Next page: Platinum-level honorees
Page 1 | Page 2 | Page 3 | Page 4 | Page 5