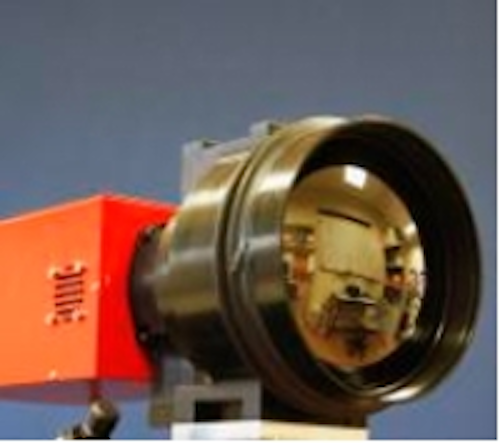 Sensia Solutions (Leganés, Spain) has developed what it claims is the first infrared camera for detecting sulfur dioxide (SO2), a gas that is considered one of the greatest causes of the acid rain generated by the energy, metallurgy, food and paper manufacturing sectors.

The camera, based on technology patented by researchers from the Universidad Carlos III de Madrid's (UC3M) Infrared Laboratory, detects and measures, at distances of hundreds of meters, SO2 as well as other pollutants such as CO, NOx, SF6, and hydrocarbons.

"The method and the device for detecting and measuring the concentration of gases that we've patented makes these compounds visible due to their characteristic infrared signature," explains UC3M's Miguel Ángel Rodríguez. "It's useful for identifying highly polluting vehicles that are on the road, leaks in conductions or emissions from industrial installations, such as the chimneys of power plants."

There are several instruments for detecting gasses on the market but, according to the researchers, none of them offers the ability to determine the concentration of each gas that is present in the mix, and to do so from a distance and in real time.

According to the company's director, Francisco Cortés, the cost of the camera would not be greater than that of any conventional infrared camera.

Related articles from Vision Systems Design that you might also find of interest.
1. Near infrared spectroscopy determines the hardness of corn grains

A near infrared (NIR) spectroscopy imaging technique can determine the hardness of corn grains without destroying them. The new technique could offer food processors savings in time and money compared to other methods for determining grain hardness.

2. Infrared camera helps turn waste into compost

An organic waste processing company is using an infrared camera typically used to reduce the hazards of night time driving to ensure that organic waste is turned into compost in the most efficient way possible.

3. Scientists create faster, more sensitive infrared photodetector

Researchers at the Center for Nanophysics and Advanced Materials of the University of Maryland (UMD; College Park, MD, USA) have developed a new type of infrared detector that could potentially be used in airport body scanners.

-- Dave Wilson, Senior Editor, Vision Systems Design